09/13/07 09:33 AM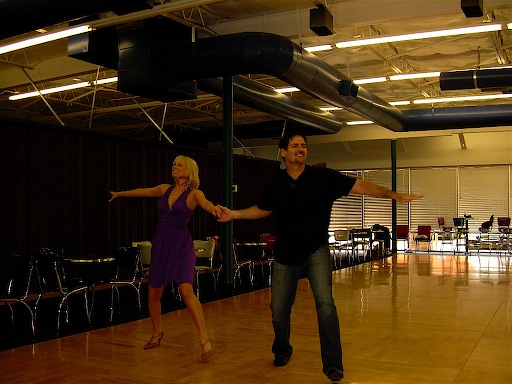 Fred and Ginger? No, it's Kym Johnson and Mark Cuban. Photos: Ed Bark
By ED BARK
Barely two-and-a-half months removed from hip replacement surgery, Mark Cuban gets airborne for a heel click while prepping for
Dancing with the Stars
.
It prompts a big grin from him and two quick judgment calls. The 49-year-old Dallas Mavericks owner definitely does not have two left feet. And his competitive drive won't let him half-step his way through ABC's hottest show.
"I think everybody thinks I'm gonna be the stiff," he says during a brief break Wednesday afternoon. "That's the underlying sentiment. So I'll use that in my favor."
His training camp since late August is a North Dallas dance studio, where Cuban and pro partner Kym Johnson have been getting in step via three-hour weekday workouts. Their first televised performance, on Sept. 25th, will be the fox trot. That one's getting pretty smooth. Next up, assuming they survive the following night's first viewer vote-off, is a more demanding mambo that for now includes Johnson sliding through Cuban's A-framed legs.
"He's one of the hardest workers I've ever come across," she says.
Cuban's also lucky to have her. Johnson took goofball Jerry Springer deep into the competition during her first appearance on
Dancing
. Then, in last spring's edition, she and Joey Fatone placed second to Apolo Anton Ohno and partner Julianne Hough.
Fatone parlayed his winning personality and near-victory into a career resurgence that now finds him hosting NBC's
The Singing Bee
and the TV Guide Channel's red carpet award ceremonies. But Johnson says he was a slacker compared to Cuban, who's already sweated off 22 pounds since surgery.
"He's dancing like you'd never know he had anything wrong with him," Johnson says. "I was a bit concerned at first, but after working with him I can't see it, or feel that he's got any problem at all."
Cuban says his left hip "gets sore and it hurts. But I use lots of ice and lots of drugs (namely Tylenol, he adds)."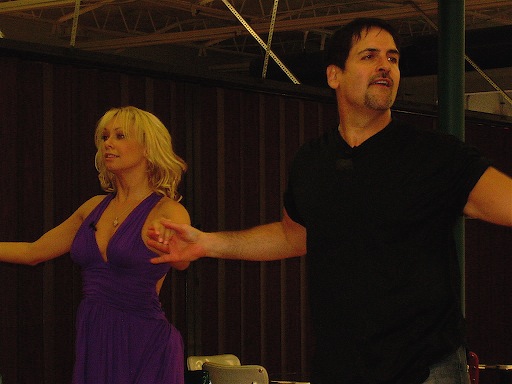 "You are now becoming a born dancer," Johnson tells her TV beau.
However Cuban fares, he can't do any better than fellow Dallas sports figure Emmitt Smith. The former Cowboys great won the third edition of
Dancing
despite an early round of hoots from ex-teammates. Cuban says that most Mavs players and coach Avery Johnson at least are talking good games.
"Avery thinks it's great," he says. "And 'Stack's' (Jerry Stackhouse) like, 'You've got a big set of balls to go out there.' Dirk (Nowitzki) doesn't give a (damn), but that's OK. I told him I was doing it, and he just shook his head."
Cuban and the female Johnson seem to be a good match on a different set of hardwoods. He jabs at her ("See, I always have to help her out") and she jabs back ("I've got another child to deal with," referring to the earlier partnership with Springer). She prods him, too, instructing Cuban to keep his movements snappy and his butt inverted.
"OK, mom, whatever you say," Cuban rejoins.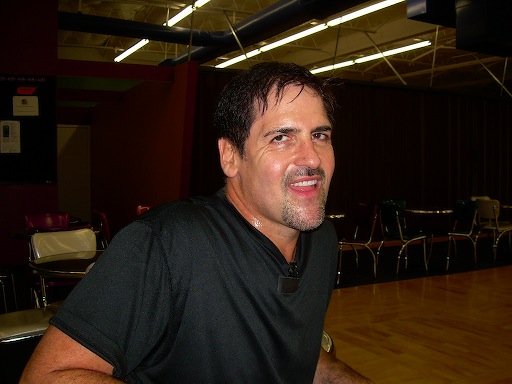 Taking a break between bouts with the fox trot and mambo.
Johnson had never heard of Cuban until learning he'd be her partner. "I googled you," she says.
Now he's in her world -- and feels welcomed to it.
"I'm pretty much learning everything from scratch," Cuban says. "I mean, disco moves don't really count in this . . . In new businesses you're always out of your comfort zone, because you never know who's gonna kick your ass. But that's why I like it. It's one of those once-in-a-lifetime things. And if it's only a question of hard work, that I can do."
He's the third oldest dancer in a 12-competitor field, with only Wayne Newton, 65, and Jane Seymour, 56, his elders. Cuban has been known to act like a kid, though. Just ask NBA referees and commissioner David Stern. ABC likely will play up his occasional courtside meltdowns, but Cuban says he won't lip off -- at least not in the early going -- to
Dancing
's three judges. Bruno Tonioli and Len Goodman are the mostly likely to test that resolve.
"What am I gonna do -- tell them that the rules of ballroom dancing are such and such, and they're wrong?" Cuban says. "People expect that, and ABC wants that, I think. Maybe if I get an overinflated opinion of myself . . . I told them I'm not opposed to speaking my mind, but I have to have a good reason."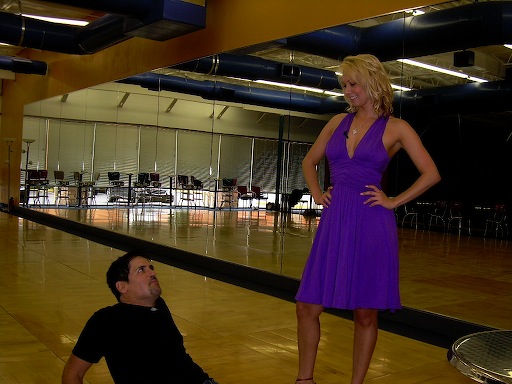 So who's the boss? On these hardwoods, that would be her, not him.
Cuban has managed to "make Kym promise" to incorporate "a beer drinkers' special dance" into each of their routines.
For the fox trot, it will be a fleeting rendition of Churn the Butter. Also on tap: The Lawnmower, The Sprinkler, The Worm and The Gator.
"We're putting it in the routines in a clever way and not too much of it," Johnson says. "Len (Goodman) may kind of think it's a little strange, but I think he'll have a laugh about it. The most important thing is bringing a celebrity's personality out. And that's what we're doing."
It's also very much about technique, though, with
Dancing
's judges scolding contestants for bad posture, sloppy execution and overall stiffness. So there's Cuban jotting down notes about the mambo and later chanting, "Boom, boom, boom, cross body lead."
"You are now becoming a born dancer," Johnson tells him.
"My brain's keepin' up with the music," says Cuban.
So maybe he'll in fact defy expectations and be a serious contender for the show's oft-lampooned mirror ball trophy. Or might the fans at Mavs road games be treated to a new brand of Cuban sideshow?
"What I'm really curious about is if I screw up anywhere on the show, how much of it am I gonna see on those big Jumbotrons?" he wonders. "But considering what they do to me now, it would be a step up."