WFAA8's Gloria Campos officially agrees to new contract that will drop her from 6 p.m. newscasts while she remains in 10 p.m. anchor chair
05/14/12 09:25 AM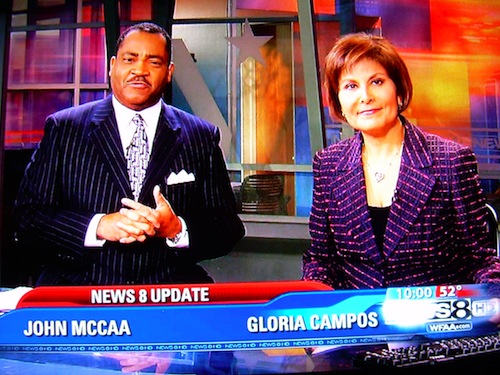 Gloria Campos and John McCaa will continue together at 10 p.m.
Photo: Ed Bark
By ED BARK
@unclebarkycom
Veteran anchor Gloria Campos is officially on board with a new contract and a transition that will take her off WFAA8's 6 p.m. newscasts in September.
But she'll continue co-anchoring the Dallas-based station's 10 p.m. newscasts with John McCaa. They've been a duo at that hour since August of 2002 after earlier being part of a tri-anchor system with Scott Sams that started in spring 1999.
Campos confirmed over the weekend that she'll sign a new deal Monday calling for reduced hours, a pay cut and an extension at WFAA8 until the end of February 2014.
She'll also be "filling in where needed and doing occasional specials," Campos said.
WFAA8 hired Campos in 1984 as its first Hispanic anchor. WFAA8's new 6 p.m. co-anchor presumably will be staffer Shelly Slater, who currently is the station's 5 p.m. co-anchor with McCaa. But WFAA8 hasn't made any announcement yet.
Earlier this year, Slater was wooed by Oklahoma City's KOCO-TV and interviewed at the station after management invited her in. But KOCO's incumbent 6 and 10 p.m. co-anchor, Jessica Schambach, eventually decided to stay in place after visiting D-FW to interview for CBS11's early morning co-anchor position. The station is not renewing the contract of Lisa Pineiro, who remains on the 4:30 to 7 a.m. shift but has been told she's free to pursue other opportunities. Her contract with CBS11 expires in October.
Slater has not returned emails asking about her intentions or any promotion.
Longtime WFAA8 sports anchor Dale Hansen
signed a contract extension with WFAA8
in January, taking a 32 percent pay cut in the process, he said. McCaa has told unclebarky.com that he also anticipates a salary adjustment when his contract is up for renegotiation later this year.
WFAA8 had a tough time in the February "sweeps" ratings period, failing to win at 6 a.m. or 5, 6 and 10 p.m. in either total viewers or 25-to-54-year-olds, the main advertiser target audience for news programming.
But the station is in the midst of a rebound during the ongoing May sweeps, where it likely will finish first in at least two time slots -- 6 p.m. in total viewers and 10 p.m. in the 25-to-54 demographic. WFAA8 also is in the thick of other races, including a very close three-way early morning battle in both ratings measurements.