Local Nielsen ratings snapshot (Thurs., May 10) -- Idol ends its Hollie-days
05/11/12 11:25 AM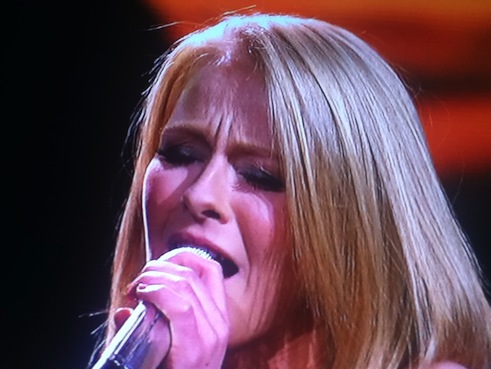 Idol swan song for McKinney's Hollie Cavanagh. Photo: Ed Bark
By ED BARK
@unclebarkycom
After hanging on precariously with a weekly series of Bottom 2 cliffhangers, McKinney's Hollie Cavanagh finally fell off Fox's
American Idol
Thursday night.
It means she won't get the so-called "Hero's Homecoming" reserved for the show's three finalists. But Cavanagh did survive all the way to the Final Four before 440,317 D-FW viewers watched her "journey" end in
Idol
's closing 15-minute segment.
Overall,
Idol
averaged 392,898 viewers, making it Thursday's most-watched attraction ahead of CBS' runner-up 8 p.m. episode of
Person of Interest
(345,479 viewers). But among advertiser-prized 18-to-49-year-olds,
Idol
again was outdrawn in its first half-hour by CBS' competing
The Big Bang Theory
.
ABC's
Grey's Anatomy
and Fox4's local newscast were tops from 8 to 10 p.m. with 18-to-49-year-olds while CBS'
The Mentalist
edged Fox4's news for the most total viewers in the 9 p.m. hour.
Among the Big Four broadcast networks, NBC's prime-time lineup of four comedies and
Awake
ran fourth across the board in total viewers. The Peacock's most popular show among 18-to-49-year-olds,
The Office
, managed a second place finish at 8 p.m. Fox's
Touch
lost the lion's share of its
Idol
lead-in to finish fourth from 8 to 9 p.m. in both ratings measurements.
On Fox Sports Southwest, the Texas Rangers drew 128,708 total viewers for their afternoon loss at Baltimore and 223,545 for their nighttime win.
Here are Thursday's local news derby results: CBS11 edged WFAA8 at 10 p.m. in total viewers, but Fox4 took the top spot with 25-to-54-year-olds, the main advertiser target audience for news programming.
In the see-saw early morning race, Fox4 rebounded with 6 a.m. wins on both scorecards.
WFAA8 ran first at 5 and 6 p.m. among 25-to-54-year-olds while sharing the 5 p.m. total viewers gold with NBC5. The Peacock nipped WFAA8 for the top spot in total viewers at 6 p.m.