Local Nielsen ratings snapshot (Tues., Nov. 6) -- election night spectacular
11/07/12 11:18 AM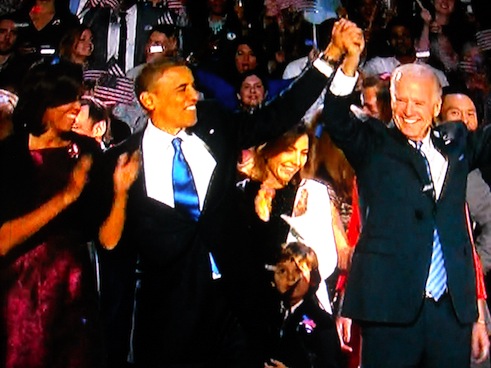 It's 1 a.m. Do you know where your President is? Photo: Ed Bark
By ED BARK
@unclebarkycom
Fox News Channel led the prime-time election ratings returns in D-FW before the ratings power shifted dramatically in late night. Deploying hand calculator technology, we first give you the 7 to 10 p.m. breakdown.
Fox News Channel -- 302,905 viewers
NBC -- 261,600
ABC/CNN -- 185,873 each
Fox broadcast network -- 172,105
Univision -- 144,568
MSNBC -- 130,800
CBS -- 110,147
PBS -- 34,421
That's an impressive showing by the three cable news networks, with MSNBC drawing more total viewers than CBS while Fox News Channel and CNN had two of the top four ratings performances. The Big Four broadcast networks no longer command the lion's share of the nation's -- or D-FW's -- attention on election or national political convention nights.
The 10 to 10:30 p.m. slot was largely yielded to local newscasts. NBC5 had the most viewers in this arena with 296,021, followed by WFAA8 (275,368), Fox 4 (234,063) and CBS11 (103,263).
However, this also was the time period in which all networks projected President Obama's re-election over challenger Mitt Romney. And Fox News Channel remained the top overall draw from 10 to 10:30 p.m. with 316,673 viewers. CNN had 275,368 viewers and MSNBC, 130,800.
OK, let's skip ahead to the 11:45 p.m. to 1 a.m. slot for a final tabulation. Romney took the stage at 11:55 p.m. to make his brief concession speech and President Obama began taking his victory lap at 12:39 a.m. and spoke until 12:58 a.m.
Here are the D-FW viewer totals for this 75 minute increment:
NBC/CNN -- 151,452 each
ABC -- 130,800
MSNBC -- 117,031
Fox broadcast network -- 110,147
CBS -- 75,726
Fox News Channel -- 48,189
Univision -- 34,421
PBS -- 13,768
Fox News Channel went from No. 1 in prime-time to No. 7 when their candidate lost. These numbers might well have been reversed had the outcome been the opposite. FNC may have topped the late night Nielsens had Romney instead been giving a victory speech. And Obama's network, MSNBC, likely would have experienced a significant tune-out. Instead MSNBC had more than twice as many viewers than FNC in this 75-minute increment while FNC doubled MSNBC's audience in prime-time.
CNN, which comparatively plays it down the middle, fared the best overall among the three cable news networks with a third-place tie in prime-time and a first-place tie in late night. CBS had a miserable ratings night all around.
unclebarky@verizon.net