An affair to forget on WFAA8 news
11/15/12 07:21 AM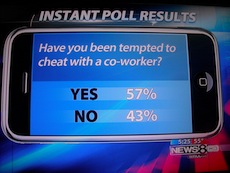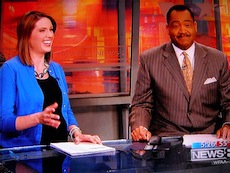 WFAA8 anchor John McCaa didn't much care for the question on left.
Photos: Ed Bark
By ED BARK
@unclebarkycom
WFAA8 anchor John McCaa didn't have to say much. In fact, he probably would have preferred dropping through a trap door near the end of his station's Monday 5 p.m. newscast.
Struggling in the ratings at that hour and bedeviled by usually dinky lead-in ratings from the preceding
Katie
, WFAA8 occasionally goes to extremes in order to lure and keep an audience.
On Monday's edition, the self-appointed "Family First" station posed an "Instant Poll" question that seemed unfit for a newscast. Namely, "Have you been tempted to cheat with a co-worker?" Viewers were encouraged to respond and then wait for the climactic results. As you can see from the above frame-grab, 57 percent of respondents answered "Yes."
I'm kind of surprised by that," said co-anchor Shelly Slater. "Are you surprised by that?"
"No," said McCaa. "I'm frankly surprised we asked the question."
An off-camera chortle or two kicked in before Slater added, "Jerry Springer here on Channel 8."
Viewers were told that assistant news director Chris Berg submitted the question. But news director Carolyn Mungo sets the tone at WFAA8. And as far as viewer input and social media go, "I adore it. I embrace it," she said at a recent
gathering of the D-FW market's five women news directors
.
Rival stations likewise have gone head over heels for Twitter and Facebook. Or so it often seems. But not yet to the point of asking their viewers to chime in on the tabloid-y subject of workplace affairs.
Mungo has not responded to an email sent early Wednesday morning asking if she had any second thoughts about WFAA8's decision to pose that question on a newscast. But McCaa clearly wanted no part of it. And he had the gumption to say so on the air.
unclebarky@verizon.net