Three-part Dallas Hope a PR plus for Baylor
11/06/12 03:25 PM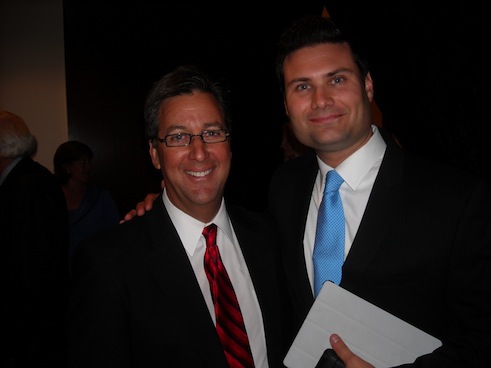 WFAA8's Steve Stoler and former newsroom colleague Craig Civale.
Photo: Ed Bark
By ED BARK
@unclebarkycom
Former WFAA8 reporter Craig Civale already has renewed ties to his old station in his new post as senior public relations consultant for Baylor Health Care System.
Civale, who left the Dallas-based station in June after five-and-a-half years, is busily promoting
Dallas Hope
, a three-part series about a trio of cancer survivors. WFAA8 is airing it in half-hour segments at 6:30 p.m. on Nov. 8, 15th and 17th. Former WFAA8 sports anchor-reporter Tony Martinez (a Peabody winner for his ESPN
SportsCentury
look at Jim Thorpe) wrote and directed the series in tandem with Kevin Spivey, his partner at Frisco-based
Silver Horn Entertainment
.
Current WFAA8 reporter Steve Stoler also attended a recent screening and reception at Baylor's T. Boone Pickens Cancer Hospital in Dallas. Stoler, a 15-year survivor of Hodgkins lymphoma, told attendees he's living proof that cancer is "not a death sentence."
Stoler was diagnosed at age 39 while reporting for Dallas-based KDFW-TV (now known as Fox4). That station's former medical reporter, John Hammarley, did a series of stories documenting Stoler's treatment and recovery.
The cancer survivors featured in the
Dallas Hope
series are 30-year-old Michelle Berndt, 25-year-old Cherysse Daniels and 78-year-old Bill Bradford.
Introducing a screening of the first two parts of
Dallas Hope
, Martinez stressed that it's not a commercial for the hospital and that "no one at Baylor changed any of the editorial content."
Not that they have anything to worry about. All caregivers are models of compassion and competence during the first two half-hours. And patient Berndt says "Thank you, Baylor" while leaving the hospital after surgery.
Dallas Hope
basically is Baylor's answer to
Children's Med Dallas
, a five-part series that aired on WFAA8 in the late summer of 2011. As such, it's uplifting, educational and also an open invitation to put yourself in the good hands of these all-caring facilities if the need should ever arise.
There's nothing particularly wrong with that, and the pre-emptions of
Entertainment Tonight
are an added bonus.