Local Nielsen ratings snapshot (Fri.-Sun., April 12-14) -- CBS Masters coverage rolls along with Tiger
04/15/19 09:53 AM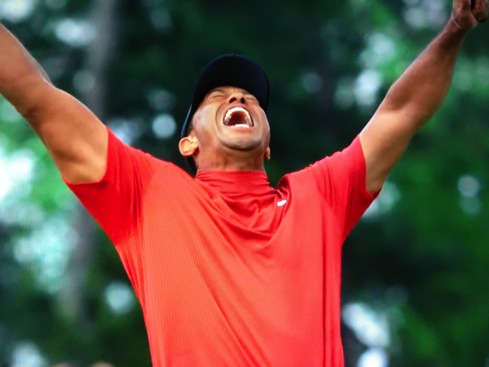 Tiger gets his roar on after winning The Masters. Photo: Ed Bark
By ED BARK
@unclebarkycom on Twitter
Overcoming major injuries, drug addictions and public humiliation/treatment as a "sex addict," Tiger Woods improbably won his first Masters tournament in 14 years Sunday and his first Major since 2008.
The D-FW ratings reacted accordingly, with CBS firing up its coverage at the early hour of 8 a.m. to avoid predicted heavy storms later in the day. It wasn't until 1:27 p.m. that Woods dropped in his winning short putt. The audience had grown to 379,582 viewers for those final minutes before ballooning to a high of 400,670 for the 1:30 to 1:45 p.m. post-tournament coverage.
Last year's Masters, which stretched to the usual early evening hours, had a higher peak audience of 420,204 viewers for the closing 5:30 to 5:45 p.m. segment. That was due in large part to Dallasite Jordan Spieth's charge from nine strokes back to a tie for the lead before eventually losing by two strokes to fellow Texan Patrick Reed. Overall, the 2018 Masters averaged 299,128 viewers, appreciably higher than the 231,967 viewers for the entirety of CBS' Sunday coverage. The absence of Palm Sunday church-goers no doubt significantly deflated the morning numbers for the Woods-fueled final round. But it was still Sunday's biggest programming draw, with CBS' 8 p.m. episode of
NCIS: Los Angeles
the runner-up with 210,879 viewers.
(Nationally, CBS says that Sunday's final round was its highest-rated morning golf telecast in 34 years.)
D-FW ratings were not immediately available for Sunday's Season 8 premiere of HBO's
Game of Thrones
.
Saturday's Round 3 of CBS' Masters coverage peaked at 309,289 D-FW viewers between 5 and 5:15 p.m.
In Friday's Nielsen numbers, the prime-time pacesetters were CBS'
Blue Bloods
in total viewers (246,026) and NBC's 8 p.m. episode of
The Blacklist
among advertiser-prized 18-to-49-year-olds (30,192).
Here are Friday's local news derby results.
NBC5 and CBS11 tied for the most total viewers at 10 p.m. while Fox4 won among 25-to-54-year-olds (main advertiser target audience for news programming).
Fox4 swept the 6 a.m. competitions and added 5 and 6 p.m. wins with 25-to-54-year-olds. NBC5 led in total viewers at 5 p.m. and tied WFAA8 for the top spot in that measurement at 6 p.m.
Email comments or questions to:
unclebarky@verizon.net