This just in: A night in the lives of D-FW's late night newscasts (Fri., May 7)
05/09/10 02:14 PM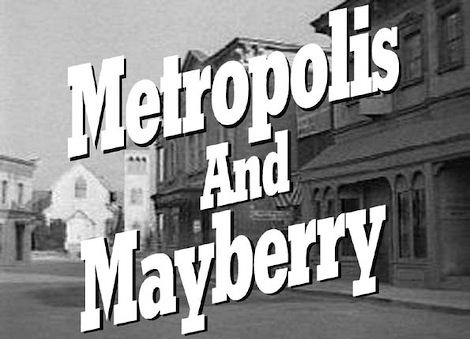 By ED BARK
Three of D-FW's major TV news providers went the small town news route at the start of Friday's late night editions. CBS11 was alone in taking a bigger approach more befitting a North Texas viewing area of 6.8 million.
Fox4 topped its 9 p.m. news with
Lynn Kawano
's report on a McKinney couple whose first child arrived prematurely in their spotless garage. Jade Holiday, who weighed just one pound, is now doing fine in a neo-natal intensive care unit.
"Always keep a clean garage," mom Jasmine said, laughing. WFAA8 had a briefer account of the same story toward the middle of its newscast. It didn't make the cut on either NBC5 or CBS11.
NBC5 instead led at 10 p.m. with
Scott Gordon
's dispatch on an alleged scammer who solicited donations for the Boys and Girls Clubs of America at two small Dallas hair care emporiums. Police have been notified. Rival stations didn't bother with the story.
WFAA8 began its late night edition with
Monika Diaz
's "Pews and Parking" spat between the Highland Park Presbyterian Church and a group of "Preserve Our Neighborhood" resistors. The church wants to help resolve its parking problem by building a 145-space lot that would require the removal of three homes that it already owns. Nonetheless the city council must grant a permit. A resident with an air of entitlement about him told Diaz, "It'll be a nice parking lot. It's still a parking lot." There was no coverage on Fox4, NBC5 or CBS11.
All of the above may or may not have their places somewhere within a station's newscast. But at the very top? Perhaps on the Mayberry Action News.
CBS11 led more wisely with a
Jay Gormley
report titled "Running On Empty." The Texas Department of Transportation says it will be out of money to start new highway projects in 2012 unless revenues are significantly increased, Gormley said. Funds will only be available for maintenance of existing roads, said TXDOT spokesperson Cynthia Northrop White.
One revenue-raiser, increasing gasoline taxes, hasn't been tried since 1991, Gormley noted. And it's likely a non-starter with the State Legislature.
The area's increasingly clogged freeways seem to always be in need of expansion or re-routing, making Gormley's story of import and interest to just about every viewer. Ideally, this should be standard operating procedure at the start of any newscast. Instead, relatively penny ante stories increasingly are the norm. They tend to be easier to promote during prime-time programming, even if viewers often are short-changed.
Friday's newscasts otherwise weren't much to write home about -- let alone fill these spaces.
On Fox4,
Fil Alvarado
had a nice little story on a teenage girl's run for the lone available Arlington City Council seat. Eighteen-year-old Lila Friedlander spent $1,000 on her campaign, using money she earned as a lifeguard. But in the end she lost by a 61 to 39 percent margin to the incumbent.
Fox4 reporter
Matt Grubs
reorted live from the opening of the luxury Gold Class Cinema in Fairview, where a moviegoing couple easily can drop $100 for the privilege of sitting in comfy recliners and munching on gourmet food. But WFAA8's
Gary Cogill
had this story all the way back on April 29th, the first weeknight of the ongoing May "sweeps" ratings period. On Friday night, Cogill had moved on to the City Arts Festival at Fair Park, where he filed a live report while enthusing that it's all free over the weekend.
Fox 4 and NBC5 both had footage of George W. Bush's unscheduled appearance at a luncheon where his former secretary of state, Condoleezza Rice, otherwise was the featured speaker. NBC5 noted that its 5 and 6 p.m. co-anchor,
Jane McGarry
, emceed the event.
At least that's truth in packaging. In its coverage of a recent retirement party for Dallas Police Chief David Kunkle, WFAA8 made no mention that co-anchor
Gloria Campos
was its host. Nor were viewers told that the station also produced the party's official laudatory retrospective on Kunkle's career, which was narrated by WFAA8 police reporter
Rebecca Lopez
.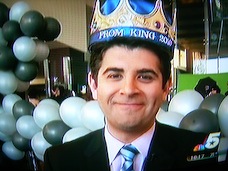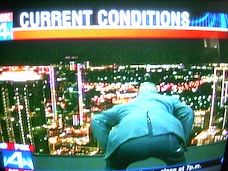 Villafranca kings himself; Jackson shows off assets. Photos: Ed Bark
Finally, NBC5 reporter
Omar Villafranca
felt compelled to don a cardboard prom king crown at the close of his piece on Grand Prairie High School's pricey prom at Cowboys Stadium. And Fox4 co-anchor
Steve Eagar
couldn't resist showing viewers footage of weathercaster
Ron Jackson
's off-camera dance recital during a commercial break.
"As you can see, when Ron wants to measure wind speed, he doesn't stick his finger in the air," Eagar noted after Jackson's performance ended with his North Texas-sized behind facing the camera.
Those who missed out can see it now, courtesy of the myfoxdfw website. Thirteen nights to go.