Local Nielsen ratings snapshot (Fri.-Sun., May 14-16) -- Volley of ABC season finales and Survivor fight to finish Sunday night
05/17/10 10:37 AM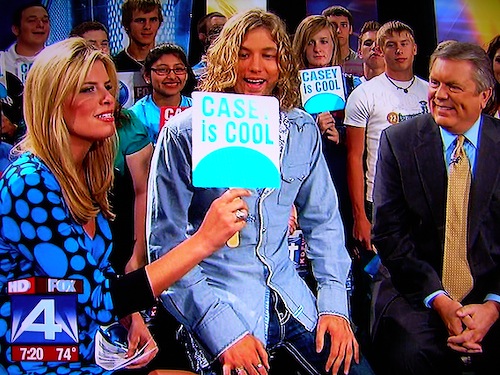 Casey at the bat during Friday's Good Day. Photo: Ed Bark
By ED BARK
CBS' three-hour
Survivor: Heroes vs. Villains
extravaganza traded punches Sunday night with ABC's trio of season finales. It was a split decision.
ABC's
Extreme Makeover: Home Edition
took the 7 p.m. hour with 230,734 D-FW viewers while former Dallasite Colby Donaldson finally was counted out in the first hour of
Survivor
(190,016 viewers). But
Survivor
prevailed among advertiser-coveted 18-to-49-year-olds.
The season's last episode of
Desperate Housewives
then amassed the night's most total viewers in thumping the second hour of
Survivor
by a score of 359,647 to 223,948. Still,
Survivor
managed a first-place tie with
DH
among 18-to-49-year-olds.
The announcement of
Survivor's
victor, which spilled into the early minutes of a very lively live reunion hour, yielded the long-running reality competition show 203,589 total viewers at 9 p.m. That fell short of
Brothers & Sisters
223,948 viewers, but
Survivor
won handily in the 18-to-49 demographic. For the record, the winner -- for a second time -- was Sandra Diaz-Twine.
Over on NBC, Donald Trump's annual Miss USA pageant skimped and limped to a very modest total of 101,795 viewers in Sunday's 6 to 8 p.m. slot.
Sunday afternoon's Game 1 of the Boston Celtics-Orlando Magic Eastern Conference Finals on ABC averaged 135,726 viewers in easily besting all competing programming.
Saturday's running of the Preakness on NBC, which started between 5:15 and 5:30 p.m., had 149,299 viewers during that 15-minute increment. The Peacock's season finale of
Saturday Night Live
was the day's most-watched attraction with 196,803 viewers.
In Friday's prime-time numbers, NBC's made-in-Austin
Friday Night Lights
fared reasonably well in the 7 p.m. hour with 122,153 total viewers. That made it a close second to CBS' competing
Ghost Whisperer
(135,726 viewers).
Lights
tied ABC's
Wife Swap
and The CW's
Smallville
for second among 18-to-49-year-olds. TXA21's Texas Rangers-Toronto Blue Jays game took the gold in that key measurement.
In local news derby results, WFAA8 won at 10 p.m. in total viewers while Fox4 ran first with 25-to-54-year-olds, the main advertiser target audience for news programming.
At 6 a.m., Fox4's buildup of
American Idol
finalist Casey James' appearance (he arrived near the end of the hour and then stayed awhile) wasn't quite enough to outdraw NBC5's competing waker upper. The Peacock edged Fox4 from 6 to 7 a.m. in total viewers while the two stations tied for first with 25-to-54-year-olds.
Despite James' appearance, Fox4 ran second from 7 to 8 a.m. to NBC's
Today
.
WFAA8 had a big Friday in the early evening news competitions, running the table at both 5 and 6 p.m.