This just in: A night in the lives of D-FW's late night newscasts (Mon., May 10)
05/11/10 11:05 AM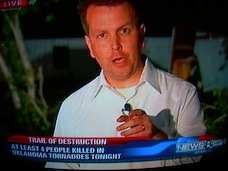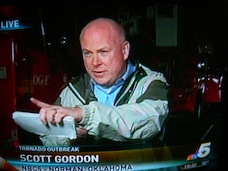 WFAA8's Jason Whitely and NBC5's Scott Gordon respectively reported live from Noble and Norman Monday night after twisters caused death and heavy damage in Oklahoma. Photos: Ed Bark
By ED BARK
CBS11 had surprisingly cursory coverage while Fox4, NBC5 and WFAA8 news staffers made their way to Oklahoma Monday night to report on the death and destruction from tornado touchdowns.
NBC5's
Scott Gordon
and WFAA8's
Jason Whitely
both had live reports from the ground while Fox4 chief meteorologist
Dan Henry
filed a telephone report after joining a team of storm chasers.
CBS11 restricted its coverage to snippets of video and an in-studio weather update from meteorologist
Larry Mowry
before quickly moving to a story by reporter
J.D. Miles
that obviously was meant to trump competitor
Brett Shipp
on WFAA8. More on that later.
Gordon did his standup from Norman after a downed power line blocked highway traffic and prevented him from getting any further, he said. He mostly made do with video footage from Oklahoma City's KFOR-TV, the market's NBC affiliate.
Whitely reported from a Noble mobile home park that sustained damage. He was able to show some downed tree limbs but not much else under the circumstances.
WFAA8 and Fox4 both used video that had a number of identical images. Fox4 co-anchor
Heather Hays
told viewers that a "news helicopter caught it in action," meaning the tornado. But she didn't reveal the chopper's affiliation. Whitely also remained mum about whose footage was being used during his report. That made Gordon the only reporter to specifically credit an Oklahoma station.
Fox4's Henry, reporting by phone from Ada, seemed more concerned about a "very difficult chase day" in which his team came up empty. But he noted "one crew that did have a direct hit by a tornado with one of their specially designed tornado pods that's equipped with HD cameras and with weather sensors." Well, good for them.
Back in Fox4's Dallas studios, backup meteorologist
Ron Jackson
handled the weather updates.
While rivals continued to report from Oklahoma, CBS11 quickly dashed to Miles' "Explosive Situation" story tied to the Texas Railroad Commission's fingering of Atmos energy for numerous faulty gas line couplings.
Miles interviewed Kristi Samons of Mesquite, who was in her home six months ago when it exploded due to an apparent faulty coupling. Miles noted that the Samons family is moving into a new home while still awaiting an apology from Atmos. Their new residence is being paid for by family money and proceeds from an insurance settlement.
WFAA8 waited until later in its newscast for Shipp's latest in a series of reports on faulty gas couplings and the explosions they've caused over the years. He's won prestigious national awards for these investigations, which began three years ago.
Shipp also interviewed Samons, but made only scant mention of her family's new home. He instead concentrated on the demolishment of their former residence while also again coming up empty in his efforts to get answers from the three-member Moe, Larry and Curly railroad commission.
"Why won't you stop and talk to us?" he asked commission member Victor Carillo while walking alongside him.
"Because I'm late to a meeting," Carillo replied, drawing his umbrella closer to his head.
Shipp made more headway with Texas state representative Robert Miklos of Mesquite, who wants all questionable couplings removed. There are an estimated three million of them, Shipp said.
Shipp clearly has been the lead dog in this area. But CBS11 obviously was intent on blunting his latest report with more prominent play for the capable Miles' dispatch.
Later in WFAA8's Monday newscast, co-anchor
John McCaa
made the dubious claim that "News 8 has learned exclusively that there was a second safe stolen from the Sixth Floor Museum last week."
Tell that to Fox4's
Matt Grubs
, who earlier reported basically the same story on the station's 9 p.m. newscast.
Both reports noted that a security guard employed by the museum had been arrested in connection with the attempted theft of one safe and the successful stealing of another. But WFAA8's
Rebecca Lopez
said that the second safe, found in a Southeast Dallas park, may have contained JFK documents as well jewelry that may have been connected in some way to Jacqueline Kennedy.
Lopez also talked to the guard charged with the crime, who said he didn't do it. McCaa then encouraged readers to check out Tuesday's
Dallas Morning News
story on safe-gate. It again made one wonder whether Lopez's "exclusive" in reality amounted to another joint effort with corporate cousin
DMN
's police reporters.
All four stations reported on former principal Dallas Mavericks owner Ross Perot Jr.'s lawsuit against current owner Mark Cuban, who allegedly has lost hundreds of millions running the team and therefore is unable to pay operating costs. Perot still owns a small piece of the team.
"Cuban isn't talking tonight," said WFAA8 sports anchor
Dale Hansen
.
"So far there has been no response from Cuban and the Mavericks," said NBC5 sports anchor
Todd Barrie
.
Maybe they should have tried a little harder. Both Fox4 and CBS 11 aired email replies from Cuban.
Fox4 sports anchor
Mike Doocy
quoted Cuban as saying that the Mavericks are "just fine." Cuban also said, "The biggest mistake I have made with the Mavs was keeping Perot as a partner."
CBS11, the only station to carry the Perot-Cuban spat outside of its sports segment, quoted Cuban as saying, "I have either personally guaranteed or provided funding myself. So he (Perot) is saying I can't pay back the money to me."
Co-anchor
Doug Dunbar
then cued viewers to the CBS11 website for more of what Cuban told the station. He teased it this way: "That's not
all
Cuban had to say."
Let me say -- and you won't have to go anywhere else to read this -- that I hate it when stations pull this crap rather than give viewers the fuller account they deserve. Do they actually want to condition prospective viewers to hit on their low revenue-producing websites rather than watch the featured newscast of the day? How do the sales departments feel about that?
In this case, CBS11 chose not to air some of Cuban's juicier comments, which included, "He knew I was going to run the team to win. Which has been fine with all the partners but Perot. I can only guess that he is still hurting from the failure of Victory (Park) and the blowing up of his hedge funds." It's moronic to leave those kinds of quotes on the table, particularly when two rival stations came up empty on the Cuban front.
Meanwhile, the night's most interesting enterprise story came from Fox4's
Lynn Kawano
. She told viewers about a new city ordinance that requires all of Dallas' 717 convenience stores to upgrade their surveillance equipment with high resolution cameras that must record in color. Outmoded VHS equipment often results in unusable footage when it comes to identifying robbers, Kawano said, illustrating her report with several examples. Fine work all around.
WFAA8's
David Schechter
had a good story, too, on diesel-powered vehicles that are all but exempt from mandatory emissions testing despite being "the largest source of ozone-producing pollution on the road in North Texas."
But Schechter unfortunately began his lengthy piece with shots of a kid with asthma coughing heavily. Then he laid it on too thick: "As kids with asthma wheeze and puff their way through the North Texas ozone, diesel cars, trucks and semis belch out the ozone-producing fumes that make kids sick."
He ended the report with a shot of the same kid coughing anew. My head still has a welt from being hit with Schechter's heavy-handed two-by-four. Subtlety may be largely a lost art in TV news, but try it some time.
The night's basic non-story, heavily touted all weekend, came from CBS11 reporter
Arezow Doost
. "You might be surprised by what we found," co-anchor
Karen Borta
told viewers Monday night, resurrecting a cliche that had been all but buried in the past year or so.
Doost, who's also done some good work for the station, went "undercover" to see if various sellers of kids' toys had certificates saying that they'd been tested for lead and other possibly harmful additives. The Consumer Product Safety Improvement Act requires such testing, and stores supposedly must have these certificates on hand in case anyone ever asks. Not that anyone ever would ask -- other than a reporter during a ratings sweeps period.
SMU marketing professor Dan Howard was called on to express surprise -- and a little indignation -- that some stores knew nothing about such certificates. But Doost basically undermined her own story at the end by noting that the Consumer Products Safety Commission had issued a "stay of enforcement" in most cases. Still, stores are supposed to have compliance certificates available for cribs, kids jewelry and pacifiers, Doost said. Ho hum.
Finally, WFAA8's Hansen joined his fellow sports anchors in reporting on Tiger Woods' latest woe -- a neck injury that prompted him to withdraw Sunday from the PGA's Players Championship.
"At least I didn't make the mistake the Golf Channel did," said Hansen, declining to elaborate. So what was he talking about?
Well, one of the Golf Channel's correspondents,
Win McMurry
, inadvertently told viewers that Woods had a "bulging dick." You're welcome.
Twelve nights to go.