This just in: A night in the lives of D-FW's late night newscasts (Fri., May 14)
05/17/10 11:30 AM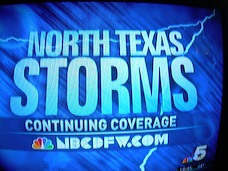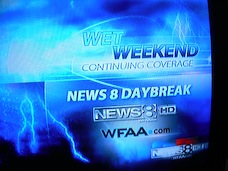 By ED BARK
A bright, sunny, humid but rainless Sunday imposed itself on Dallas and immediate surrounding areas such as unclebarky.com world headquarters in Garland.
How dare Sunday do that after all those local TV news rain-dancers -- anchors and weathercasters alike -- virtually guaranteed a sopping wet weekend?
We try to be reasonable in these compendiums, pointing out good work whenever possible and trying not to harp on the same topic too much. But damn, there they were again, leading off Friday's late night newscasts with dire warnings of rain, rain, rain, rain. Even if all of this ended up amounting to little more than a drop in the bucket in the four stations' most populous viewing areas. Particularly Dallas.
Fox4, NBC5, WFAA8 and CBS11 all did the same thing on Wednesday night before Friday's rerun. Why wait until the regular weather segment when maybe you can hook 'em right at the top with all that hyperbole about storms dashing your hopes for picnics, garage sales, festivals, etc.
"Call it a soaking, call it a deluge or a good old-fashioned gully washer," CBS11 co-anchor
Karen Borta
said for openers Friday night. "The rain came hard and fast today, and some folks were caught off guard, like the driver of this car in Fort Worth."
First, it's hard to believe that anyone could be caught "off guard." Your local TV alarmists had been preaching weekend rain incessantly. Second, thank God for that driver in Fort Worth, whose red vehicle was captured on all four late night newscasts after it failed to navigate high water. What ever would they have done without that show 'n' tell vehicle? I hope the motorist got a royalty.
CBS11 meteorologist
Larry Mowry
later predicted that Sunday would be the rainiest day of the weekend, with "real high coverage on the showers and thunderstorms again." Nuh-uh.
Over on NBC5, co-anchor
Brian Curtis
began the big 10 p.m. show by proclaiming, "Wave after wave of wet weather this weekend. David (Finfrock) warned us."
Finfrock, dean of D-FW temperature-takers, didn't seem all that excited when Curtis threw it to him. "It's mostly just a light to moderate rain," with no lightning, he said. Or to put it another way, all of this could have waited until the regularly scheduled weather segment. But no.
NBC's subsequent "Team Coverage" found reporter
Ken Kalthoff
stationed alongside Northwest Highway, where anti-flooding repairs remain in progress. Frankly, Kalthoff didn't have much to do, because there weren't any problems.
Correspondent
Omar Villafranca
chipped in with a few still pictures he took at DFW Airport, where some flights had been delayed. Co-anchor
Ashanti Blaize, sitting in for Meredith Land, then informed one and all that "nearly all of North Texas saw rain at some point today. And NBC5 viewers had their cameras out capturing the storms."

Wow, we saw a knocked-down fence, some cloudy skies and a shot of a blue jay supposedly taking shelter between tree branches. Sensational.

WFAA8 co-anchor Gloria Campos told viewers to expect "a very wet weekend" before weatherman Pete "I'll tell you when -- at 10" Delkus flashed his shirtsleeves again.

Fox4 likewise led its newscast with full-blown fears of weekend rain. The station otherwise saturated its 9 p.m. newscast with coverage of American Idol finalist Casey James' return to North Texas. The Cool, Texas native began his whirlwind tour on Fox4's Good Day before later doing two concerts in Fort Worth and visiting a hospital whose doctors and staff repaired him after he had a serious motorcyle accident six years ago that threatened to compromise his guitar skills.

Fox4's Brandon Todd and Fiona Gorostiza were all over the 27-year-old James' various appearances while rival stations found inventive ways to studiously ignore his relationship with American Idol.

Actually, NBC5 ignored him all together. Meanwhile, both WFAA8 and CBS11 covered James without actually doing so.

On WFAA8, a pair of brief live shots from Richardson's Wildflower Festival showed James onstage. But co-anchor John McCaa never said who it was. During the second live look-in, McCaa marveled at how many people were at Wildflower despite all that rain that was supposed to pour down.

CBS11 reporter Melissa Newton, in her report from Wildflower, told viewers that "the last minute addition of Fort Worth's latest rock star, Casey James" may have helped boost attendance. But she never mentioned his Idol connection. Nor did the station show James onstage.

Borta set the stage for Newton's story by telling viewers, "This was slated to be an action-packed weekend around North Texas. But now, not so much."

But the best she could come up with was the weather-related cancelation of the Wild About Flower Mound Festival. Any port in the storm.

Co-anchor Doug Dunbar then jokingly blamed Mowry for the lousy weekend that in fact never really was. Yeah, it rained some. But in many parts of the viewing area, it barely rained at all. Even Chicken Little might have cried foul.