This just in: A night in the lives of D-FW's late night newscasts (Thurs., May 6)
05/07/10 10:06 AM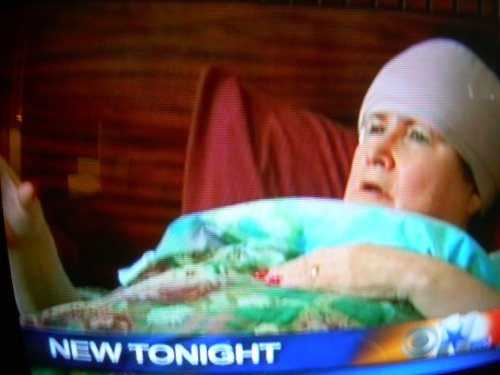 Linda Self kept her purse but took a bullet Thursday. Photo: Ed Bark
By ED BARK
A star is born -- at least for a day or two.
Station managers really don't care whether seniors watch their newscasts. It's not part of their business plans. They're instead intent on piling up as many advertiser-favored 25-to-54-year-olds as possible.
There are few things better, though, than a plucky oldster who stares down a would-be crook. Especially if they're quotable. Linda Self filled that bill Thursday, holding court from her in-home bed after taking a bullet rather than letting an assailant pilfer her purse during a series of thefts in downtown Dallas.
CBS11 led its 10 p.m. newscast with pictures of the bandaged grandma while Fox4, NBC5 and WFAA8 all played her story prominently.
"He said, 'I'll shoot you. And I just told him, 'Well, shoot me.' So he did!" Self said on CBS11.
Self was grazed in the head but still highly talkative. And the thief didn't get her purse. Viewers of all ages can relate to that.
"What makes them think they have the right to go around muggin' people?" Self asked rhetorically on WFAA8. Perfect.
Thursday also brought a calamitous day on Wall Street, where the Dow plunged nearly 1,000 points at one point before partially recovering.
Fox4 led its 9 p.m. newscast with an extended look at the turbulence. Reporter
Matt Grubs
is very good at narrating and explaining stories of both national and local import, even though he went over the top by taking a ride at Six Flags to illustrate the sharp drop.
Co-anchor
Steve Eagar
then interviewed Strategic Wealth Planning president Steve Blum, who added some interesting perspective.
NBC5 and WFAA8 spent more time on Linda Self than the Wall Street plunge. CBS11 localized matters by having reporter
Melissa Newton
interview D-FW women with 401K portfolios and a financial advisor.
It otherwise wasn't much of a news night, at least in terms of notable enterprise stories. Dare it be said that Thursday's best conversation-starter was a story on the slow but steady growth in the sales and popularity of boxed wines? NBC5's
Ellen Goldberg
set the stage with an apt and clever word play, telling viewers that some grape growers are "trying to get wine lovers to think inside the box."
WFAA8 led its newscast with a "Fast Cars and Mad Moms" story that amounted to four women in a River Oaks residential area brandishing signs and urging passing motorists to slow down.
Jason Whitely
reported, but this likely won't show up on any resume tapes.
Fox4's
Natalie Solis
had an interesting followup to Tuesday's coverage of the attempted robbery of a safe from the Sixth Floor Museum in downtown Dallas. She interviewed the male cop who disabled their getaway truck with gunshots and the female cop who tackled one of the would-be thieves and then chased him for four blocks before losing him. No one's been caught yet. The safe was left behind.
An extended "Unlicensed to Drill" story on WFAA8 had
Monika Diaz
reporting on assistant DA Raquel "Rocky" Jones' crusade to bring illegal dentists to justice.
Teeth-fillers and yankers operating without proper licenses supposedly prey on low-income patients, although an unidentified Spanish-speaking woman told Diaz that doing it "the right way" is often too expensive. Licensed dentists say that patients are "taking a huge risk" by entrusting their mouths to such practitioners. It was an OK story, but hardly a jaw-dropper.
CBS11 co-anchor
Doug Dunbar
ventured out of the studio for a nice little heart-warmer on parents whose daughter, Jessica, died of leukemia in 2004 at age 17. Before her passing, she wrote several songs with encouragement from a Children's Medical Center "music therapist." Those songs live on as inspirations to others, her parents say.
At the other end of the spectrum, a contributor to Fox4's nightly "Viewers' Voice" segment said she would pray for the salvation of the network after Wednesday's "absolutely appalling" performance by Lady Gaga on
American Idol
.
Anchor Eagar, who presides over "Viewers' Voice," read parts of her email with a sarcastic voice inflection. But he otherwise resisted mocking her. Gaga performed a
sexually suggestive version of "Alejandro,"
during which she was accompanied by a bevy of gyrating, bare-chested male dancers. Fox reportedly edited roughly two minutes from the performance, prompting Gaga to tweet and link to the "real version."