Last standing Texan gets Idol boot (but you'll hear more from Casey James)
05/20/10 09:20 AM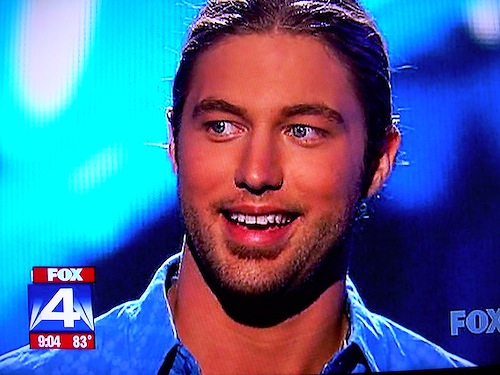 Casey James moments after his Idol "journey" ended. Photo: Ed Bark
By ED BARK
It's official -- and no surprise.
Crystal "Mama Sox" Bowersox and Lee "Charisma Chip Missing" DeWyze will square off next week in hopes of becoming
American Idol
's ninth season champ during the swan song for signature judge Simon Cowell.
That leaves 27-year-old Casey James of Cool, TX out of the picture. The guitar-slinging Adonis was voted off Wednesday night just five days after
Idol
cameras captured his triumphant North Texas homecoming.
Two less than memorable performances Wednesday night sealed the deal for James on
Idol
but certainly won't hurt his future prospects. You don't have to win anymore to use the show as a launch pad for stardom. Also-rans Jennifer Hudson, Chris Daughtry and, lately, Adam Lambert, are ample evidence of that. Among the first eight
Idol
champs, only Kelly Clarkson and Carrie Underwood are still gainfully churning out hits.
The prediction here -- and it's been made several times now -- is that James will have the longest lasting career among this season's overall lackluster crop of contestants. He's got the looks, the stage presence and certainly the talent to be touring with Underwood sometime in the not too distant future. If I'm him, I go country. But today's country also is no stranger to rock/blues. So it's wide open for him.
Cowell's departure next Wednesday should help boost the ratings for what's been a downtrodden season. Don't be surprised if Paula Abdul shows up to help kiss him goodbye.
Further speculation from these quarters: Ellen DeGeneres will bow out after one season, and
Idol
's producers won't be sorry to see her go. Occasional clever quips aside, she just hasn't been a good fit.
Potential candidates to replace Cowell include Elton John, Jamie Foxx and Harry Connick Jr. I'd go with Sir Elton and a return to the three-judge format if he's truly willing to make a season-long commitment.
Meanwhile, bank on James to make it big. All he needs is the right song. Everything else is in place.