Packaging former UT backup QB Matt Nordgren for Bravo's Most Eligible Dallas
08/12/11 04:46 PM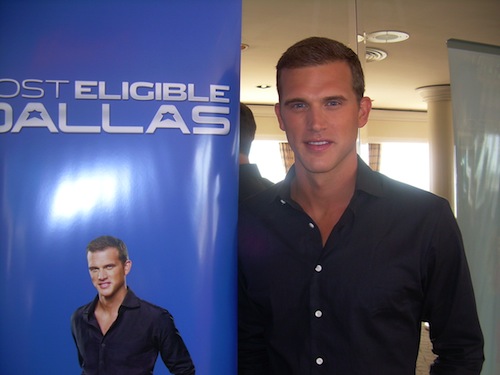 Matt Nordgren at meet 'n' greet for Most Eligible Dallas. Photo: Ed Bark
By ED BARK
BEVERLY HILLS, Calif. -- It's a small world after all.
Matt Nordgren, principal stud of Bravo's upcoming
Most Eligible Dallas
(Mondays at 9 p.m. central, starting Aug. 15), went to grade school in Dallas with my daughter.
He also went to high school with my son. And he played football at Bishop Lynch High School with Rob Hopkins, who's now married to my wife's daughter.
Your friendly content provider dropped all three of these little nuggets before interviewing Nordgren at a recent lunchtime event during the Television Critics Association "press tour." Nordgren, who turns 29 in late September, seemed intrigued by the trifecta but focused on his objective. Namely to join the Hollywood shuffle after passing on several other "reality" series offers.
"I just never did 'em because I didn't think they were going to portray me in the light that I wanted," he says. "When they presented this to me, I liked that it was open for me to do whatever I wanted to do. There wasn't any competition and it wasn't a dating show. You didn't have to end up with somebody. What really sold it for me was when they said, 'Look, it's called
Most Eligible
. We can't make you look like an idiot. We
have
to make you look 'Most Eligible.' "
Nordgren was Lynch's starting quarterback but didn't get to play much at the University of Texas as a backup for All-American Vince Young. But now he's a playa with a signature boast that's been featured in promos for
Most Eligible Dallas
. "I consider myself the total package," he says. "I genuinely love women."
He says the show highlighted that line while editing out his preamble.
"That whole particular segment was like a five-minute spiel by me," Nordgren says. "I also said I've got a great faith and family and I worked my butt off at school to get an education and two degrees. I'm a good Christian man, you know what I mean? I've never been to jail. I've got a lot of things that I think make me eligible. But that's what gets taken. They can't show everything."
His father, George Nordgren, is a former University of Houston running back who was drafted by the 1968 Dallas Cowboys as the 454th pick in the 17th round. But he didn't make the team. Matt got a shot with the Philadelphia Eagles as an undrafted 2006 free agent, but likewise was released.
The senior Nordgren now runs Dallas-based Nordo, Inc., an energy company that employs his son as an executive. Matt says he also works on his own in "various private equities for sports and entertainment deals." He's lately been splitting his time in three main venues -- Dallas, New York and Los Angeles.
The Hollywood scene seems to be going swimmingly for him, although he's not treated as a star quite yet. Before introducing the cast of
Most Eligible Dallas
to TV writers, a Bravo executive had Nordgren hold his iced tea for him. In a clip from the show, he tells friend Neill Skylar that he's entitled to bring a different girl to dinner every night if he wants.
"I'm single. I can do these things," says Nordgren, for whom Skylar is the show's designated "gatekeeper" as well as the single "hot mama" of a one-year-old son. And hey, they just might still have a thing for one another, according to publicity materials.
In our interview, Nordgren says he still trusts the producers of
Most Eligible Dallas
to make him look good. On the other hand, though, "it's not always going to be the way you want it to be. But that's life. I believe that God puts things in your life and takes 'em away for a reason. And it's not up to us to be able to decide that. This show was an opportunity that I thought about for a long time and took it. Life isn't always perfect, and TV shows aren't always going to be perfect. You take the good with the bad and live with that. So no regrets at all. It is what it is."
Nordgren says he "definitely would like to keep pursuing entertainment" among other interests. "But at the end of the day, whatever God wants to happen, it will. If it doesn't work out, there's a reason for it. I take it day by day and enjoy it."
The Man Upstairs perhaps wouldn't entirely approve of an opening line from one of
Most Eligible Dallas
' three featured women. "My tits are about to pop out of this bra," she declares."
But that's show biz. As Matt Nordgren will learn soon enough.