Former NBC5 reporter Grant Stinchfield aspires to be Republican congressman (updated with interview)
08/15/11 11:24 AM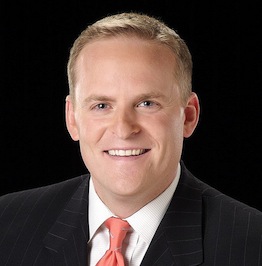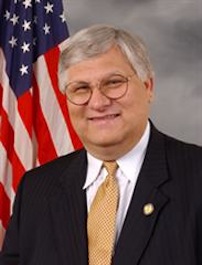 Ex-NBC5 reporter Grant Stinchfield and Rep. Kenny Marchant.
By ED BARK
Grant Stinchfield is nothing if not unpredictable.
Formerly a reporter for Fort Worth-based NBC5, he
left the station in April
after seven years to take ownership of a Kwik Kar Auto Lube and Repair business in Irving. Now Stinchfield is revving up for a run for Congress as a Republican who has "the courage to stand up to powerbrokers," according to a new video touting his candidacy.
Stinchfield, in a letter and followup email to prospective donors, says he has a goal of raising $150,000 by Labor Day in "order to be taken seriously as a candidate" and to compete against what he calls an "entrenched opponent."
He doesn't name his adversary. Stinchfield and his wife, Amy Vanderoef (a co-host of WFAA8's
Good Morning Texas
), currently live at a Dallas address in Republican Pete Sessions' 32nd congressional district. He's represented that district since being elected in 2002. But in a telephone interview Monday evening, Stinchfield said he definitely is not running against Sessions.
The website
politics1.com
lists Stinchfield as running against
District 24 Republican Kenny Marchant
, who was elected in 2004. Stinchfield declined to comment on that possibility, saying that "we're not ready to make any decisions until we explore all possibilities."
Stinchfield said he first was approached about running for Congress almost two years ago while he was still reporting for NBC5. "So this has been in the back of my mind for a long time," he said.
He has never run for public office before, but "when the economy started to tank, and after the birth of my son, and when the country started to go downhill in a direction I just couldn't support, it became more and more clear to me that I had to do something to get us back to the ideals of freedom, liberty and the free enterprise system that this country was built on."
Another wakeup call, he said, has been his post-newsroom experience as head of his own private business.
"I've learned first hand the way government gets its grip around small business owners and squeezes the life out of them," he said.
Still, he'll keep the oil changes coming at his Kwik Kar franchise, Stinchfield said. "Knock on wood, business is going great, and I love what I do. I'm literally feeling liberated."
Stinchfield says in his email pitch to donors that he so far has "received contributions from dozens of people ranging from corporate CEOs and small business owners to professional athletes and everyday citizens. But time is running out to reach my goal."
Still, Stinchfield says in the email solicitation that he'll officially announce his candidacy sometime in September in hopes of helping to "put our country back on a path to prosperity . . . With a humble heart, I ask for your help. Sadly, campaigns have become more about money than message, but I promise your contributions will go to good use." He has a
new campaign website
up and running, although Stinchfield said Monday that it's being remodeled and will be relaunched shortly.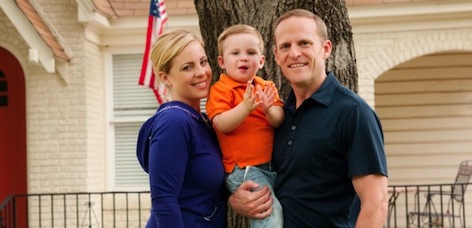 Stinchfield with wife Amy Vanderoef and their 2-yr.-old son, Wyatt
In the video touting his planned candidacy, Stinchfield bills himself as an Emmy-winning investigative reporter. And "as a congressman, I'll continue my investigate reports and expose the rampant cronyism and idiocracy that has taken over Washington."
Stinchfield's pledge is preceded by Fox News Channel video in which various anchors and reporters decry government waste.
"You put me on the inside," Stinchfield says in closing, "and Washington's love affair with spending comes to an end."
Here's the video: