WFAA8 quickly marries ruggedly eligible Cowtown newspaper after divorce from philandering Dallas print daily
03/27/14 08:44 AM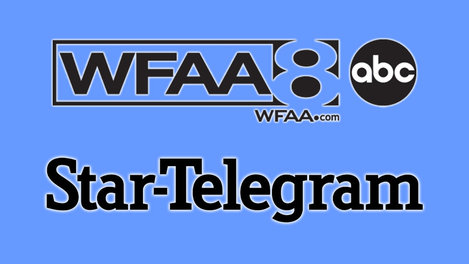 Time for them to share and share alike. Image from wfaa.com
By ED BARK
@unclebarkycom on Twitter
The two sides had been feeling each other up during the past winter.
And as
previously posted
, WFAA8 may even have gotten to second or third base by leaking a series of anchor shifts to
The Fort Worth Star-Telegram
on the day Gloria Campos announced her retirement date.
Now the romance has been officially consummated, with the newspaper and the Dallas-based, Gannett-owned ABC affiliate
jointly announcing
a "content partnership to better serve news consumers."
WFAA8 remarried faster than a Gabor sister after the station and its longtime synergistic pal,
The Dallas Morning News
, had a
nasty divorce late last year
.
The News
married into a content-deal with Fort Worth-based NBC5, whose dowry includes a glittering new studio complex located adjacent to the D-FW International Airport.
In announcing the WFAA8-Star-Telegram deal Wednesday evening, the newspaper's executive editor, Jim Witt, said, "We've been admirers of WFAA's news operation for decades. The opportunity to be partners with the station long recognized as being the best in the market is exciting to us."
WFAA8 news director Carolyn Mungo figuratively was swept off her feet. "The
Star-Telegram
is the dominant print and digital news provider in Tarrant County with a deep legacy in Fort Worth," she said in the wedding announcement. "We are pleased to have the opportunity to work closely with the many professionals at the paper."
The two sides said they'll be "sharing a wide range of content, from breaking news to subjects including sports, business, traffic, weather, dining and entertainment from all over the North Texas area." Staffs of the two media companies also will "work together occasionally to produce joint projects."
The
Star-Telegram
and
The Dallas Morning News
used to share content, but those days are now completely over. NBC5 and CBS11 previously had partnered up with the
Star-Telegram
, but the weathered Cowtown hunk again had been a bachelor of late.
Unclebarky.com continues to have a content partnership with independence. It enables this site to play the field without playing favorites in covering North Texas television stations.
It's getting increasingly tougher, however, to follow up on tips by asking management at NBC5 and WFAA8 to confirm or deny them. It would be easy for them to instead go running to their respective newspaper buds to in a sense say, "Get this on your website before that a-hole with the guerrilla website posts something."
Neither newspaper critiques the content of D-FW television newscasts, so that area remains wide open. Meanwhile, Fox4 and CBS11 will have to face competitors hoping to flex their new synergistic might on big stories or even patchy rainfalls. Then again, these relationships are made to be broken. This isn't, after all, the first rodeo for either WFAA8 or the
Star-Telegram
.
Email comments or questions to:
unclebarky.com