Museum of Broadcasting? No, KTXD's impending oldies/goodies local newscast
07/24/12 01:16 PM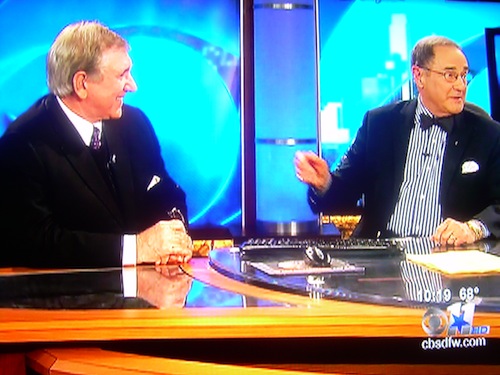 Tracy Rowlett and Troy Dungan in Feb. 2011 reunion on CBS11.
Photos: Ed Bark
By ED BARK
@unclebarkycom
If they build it, will the baby boomers come?
Dallas-based KTXD-TV, a ME-TV venue for "classic" reruns, hopes that a retro daily local newscast will be a perfect fit. And
The Texas Daily
, due sometime in September, has most of its older familiar faces in place as the premiere date nears. Among them: Tracy Rowlett, Troy Dungan, Scott Murray, John Criswell, Midge Hill and Suzie Humphreys. They're among the dozen contributors who have committed to show up at least once a week for a Monday-Friday 8 a.m. newscast titled
The Texas Daily
.
"We're trying to aim an hour's worth of news and comments at the older demographic, the baby boomers," said Phil Hurley, executive vice president and COO of London Broadcasting, Inc., owner of KTXD. "It's the forgotten demo, but our research tells us there's a real appetite for it. It's a concept that I've been kicking around for probably 10 years . . . I'm half broadcaster and half entrepreneur. This is something we have a passion to do."
D
magazine's FrontBurner blog initially posted what it termed a news release on KTXD's plans. But Hurley said it wasn't intended for publication, terming it "just a synopsis" given to a
Texas Daily
contributor who also works for
D
.
KTXD plans to wait until late August to officially announce the specifics of
The Texas Daily
and its full list of contributors. "We've still got contracts to sign. We're still designing the show," Hurley said.
Still, he confirmed that former WFAA8 anchor Jeff Brady has agreed to "kind of drive the car" while rotating "pundits" such as Rowlett, Criswell, Dungan (who won't be doing weather) and Murray (who won't be doing sports) hash over the local, national and international news of the day.
"We're not going to do the cop shop news, which is so prevalent today," Hurley said in a telephone interview. And the sports/weather segments will be very basic, lasting from 30 to 60 seconds each. Much of the news footage will come from CNN, of which KXTD is an affiliate. But Hurley said the station also will "have one or two shooting crews here so that we can get some content locally."
Texas Daily
will be presented in high-definition, he said. A separate locally produced lifestyles program also is in the planning stages.
Eleven of the 12 contributors named in the
Texas Daily
synopsis worked at one point or another for WFAA8, with former NBC5 sports anchor Murray the lone exception so far. Besides the aforementioned, the other contributors are Gary Cogill, Jolene DeVito, Rebecca Rodriguez, Robert Riggs, Phyllis Watson and John Sparks.
Hurley said there are contractual offers out to five other potential contributors. All of them would be earning small fractions of their previous salaries, but it's not exactly heavy lifting.
"We're not requiring them to work every day. A lot of these folks are retired," Hurley said. "They'll be in and out of here in a couple of hours. And you know what's another big point? No night work."
Rowlett, WFAA8's mainstay news anchor for a quarter-century before he jumped to CBS11 in 1999, said he initially had reservations about joining KTXD. But he decided to sign on after Dungan (WFAA8's longtime main weathercaster until his 2007 retirement) likewise agreed to be a part of
Texas Daily
.
"Yes, Troy and I will be together again for a program a week, possibly two," Rowlett said in an email response. "We both thought that would be something worth trying. I like the folks at London."
Dungan, in a separate response, said he had a "few small issues" with the contract sent by KTXD, but "it is likely I will get together with them. I'm not sure how to describe what I'll be doing. It will be more of a co-hosting sort of a news talk hour as I understand things. Could we see Tracy and Troy -- together again? Heck, I would watch that."
DeVito, who anchored and reported for both WFAA8 and the companion Texas Cable News channel, said she's still primarily a broadcast talent coach who works with sportscasters and pro athletes.
"I didn't think there would be any project that would interest me and fit in my life," said DeVito, who also has two pre-teen children. "I was wrong on both counts.
The Texas Daily
is a unique opportunity to reunite with old friends and debate the news of the day. Heck, if you told me, 'Hey, Gary Cogill and Tracy Rowlett are down at Starbucks right now, chewing the fat, and they want you to come' -- I'd be there in a second. In this case, we'll just have TV cameras there, too , , , I'm looking forward to bringing my 40-something suburban mother of two perspective to the conversation."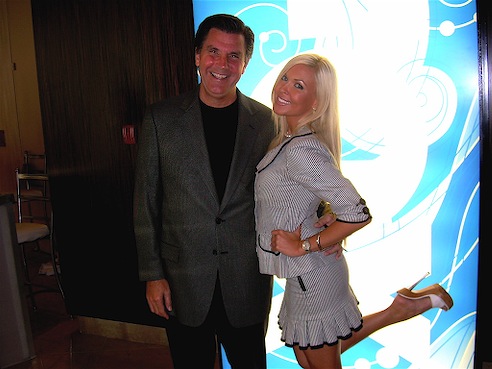 Hurley & Lauren Jones strike 2007 poses for Fox's Anchorwoman.
Besides KTXD, Hurley and London Broadcasting president Jerry London preside over four other Texas TV stations in Tyler-Longview, Beaumont-Port Arthur, Corpus Christi and Waco-Temple-Bryan.
The former Southwestern Bell Telephone executive was running KYTX-TV in Tyler when he agreed to hire former wrestling villainess Lauren Jones for the purposes of the 2007 summertime Fox "comedy/reality" series
Anchorwoman
. It was canceled after back-to-back opening night episodes bombed in the national Nielsens. KYTX also accommodated Stormy the Weather Dog at the time. The adopted mutt remains with the station but no longer appears on newscasts.
Hurley agrees that
Texas Daily
is a polar opposite of
Anchorwoman
, but has no apologies. It helped put the small station in a better ratings position, he said, with KYTX (still owned by London Broadcasting) now No. 2 instead of 4 in the newscast ratings.
"It worked for me," he said. "And to this day, I always get a big laugh out of all the uproar. Now I look at all the different folks who've done different things who now proclaim themselves anchors. I think it's hilarious."
London Broadcasting bought KTXD, formerly religious station KTAQ, after it went into bankruptcy. The changeover was finalized in January, with station headquarters relocated to offices at Arapaho and the Dallas North Tollway. KTXD took over space formerly occupied by Frost Bank, "and we turned the lobby into a studio," Hurley said.
ME-TV (Memorable Entertainment Television
) has an old-time TV series menu of former network hits ranging from
Perry Mason
to
The Beverly Hillbillies
.
"We're trying to develop a news product that mirrors which mirrors the audience for ME-TV," Hurley said. And with D-FW's KFWD-TV soon
switching from similar entertainment repeats
to Spanish language Mundo Fox, "more advertising dollars and viewers will be coming in our direction," he said.
Almost all broadcast and cable networks bow to Madison Avenue's dictum that 18-to-49-year-olds viewers reign supreme in terms of maximizing advertising revenues. But Hurley insists that commercial sales for KTXD have been solid in the early going, with ample room for growth among those advertisers who still tailor their products to viewers north of 50 years old.
In that respect,
Texas Daily
will share common ground with the three network evening newscasts, all of which subsist on a steady diet of commercials for pain remedies, senior-aimed fountains of youth and products meant to stop leakage.
"We're not taking a poke at anybody," Hurley said of the established local newscasts on broadcast rivals Fox4, NBC5, WFAA8, CBS11 and CW33. "We're just doing something with a different style and content, and with some proven players."