Local Nielsen ratings snapshot (Fri.-Sun., Feb. 22-24) -- falloff for Oscars
02/25/13 10:25 AM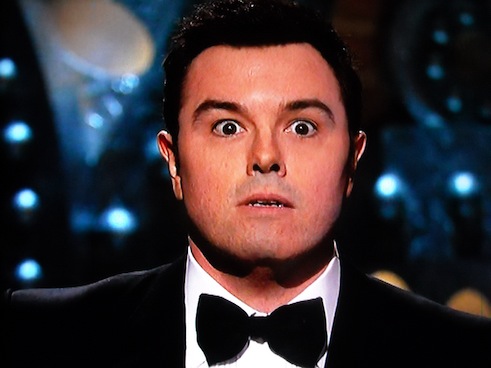 First-timer Seth MacFarlane likely won't be doing encore. Photo: Ed Bark
By ED BARK
@unclebarkycom
Despite a roster of popular pictures and a supposedly cooler host in Seth MacFarlane, Sunday night's Oscar ceremony on ABC dipped below the previous year's festivities with graybeard Billy Crystal.
Running from 7:30 to 11:05 p.m., the Oscars averaged 922,483 D-FW viewers, with 430,569 in the advertiser-prized 18-to-49 demographic. The Crystal-cast drew 1,054,760 viewers and 477,143 in the 18-to-49 age range.
This year's Oscars did, however, edge the 2011 show co-hosted by Anne Hathaway (a best supporting actress winner last night) and James Franco. It drew 907,267 viewers, with 417,906 of the 18-to-49 persuasion.
The 2012 Oscars were mercifully shorter, with a 7:30 to 10:43 p.m. running time. Sunday night's show paid a price for going 22 minutes longer. A peak total audience of 1,032,630 from 8:30 to 8:45 p.m. fell to 874,293 for the final full 15-minute segment. The extra 11 to 11:05 p.m. spill-over, with MacFarlane and Kristin Chenoweth singing "Here's to the Losers" while the closing credits rolled, also counts in Nielsen's final average.
Another factor: Sunday's Oscars got off to a slow start ratings-wise, with the smallest audience for any full 15-minute segment -- 819,220 viewers from 7:30 to 7:45 -- enduring MacFarlane's very elongated opening screw-around. In what might have been a record, the first actual Oscar-winner wasn't announced until 7:50 p.m.
On AMC, a new 8 p.m. episode of
The Walking Dead
drew 247,831 viewers opposite the Oscars, with an imposing 184,985 in the 18-to-49 motherlode.
Sunday also featured two big daytime sports attractions. Fox's Daytona 500 averaged 268,484 total viewers while ABC's national telecast of the Dallas Mavericks' tough home loss to the Lakers drew 165,221 viewers.
Friday's prime-time ratings again were paced by CBS'
Blue Bloods
, which led in total viewers with 282,252. ABC's
Shark Tank
had the most 18-to-49-year-olds among prime-time shows.
D
Magazine earned at least a moral victory on KTXD-TV (Ch. 47) when its Friday 9 a.m. edition of the new
D: The Broadcast
broke through to become the first of five shows to achieve a measurable audience rather than the dreaded "hashmarks." It had 4,819 viewers before the following
D Living
remained in hashmark territory.
In Friday's local news derby results, CBS11 edged WFAA8 for the top spot at 10 p.m. in total viewers. But WFAA8 countered by running first among 25-to-54-year-olds, the main advertiser target audience for news programming.
Fox4 rang up another double header win at 6 a.m. and also tied WFAA8 for first at 6 p.m. in the 25-to-54 demographic. CBS11 had the most total viewers at 6 p.m.
The 5 p.m. golds went to NBC5 in total viewers and WFAA8 among 25-to-54-year-olds.
NEWS NOTE
-- As
previously posted
, former NBC5 "Gridlock Buster" Tammy Dombeck will be filling in on CBS11 in that capacity. The station allowed her to make it official Sunday. And Dombeck is scheduled to appear on CBS11's Wednesday early morning news edition to talk further about her new assignment with co-anchors Brendan Higgins (a former NBC5 colleague) and Adrienne Bankert.
unclebarky@verizon.net