Wait, Wait . . . I'll Tell You
02/08/13 12:10 PM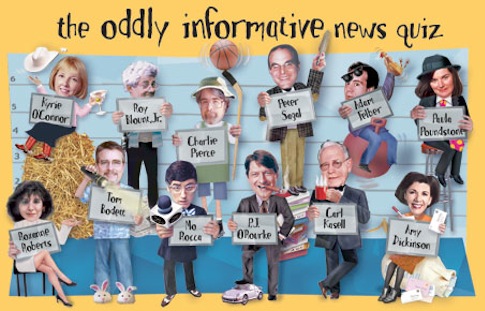 By ED BARK
@unclebarkycom
on twitter
Fans of NPR's long-running
Wait Wait . . . Don't Tell Me!
got an earful Thursday night at a packed Winspear Opera House in downtown Dallas.
For radio consumption it's a one-hour show airing Saturdays at 11 a.m. on KERA's 90.1 FM and repeated at 1 p.m. Sundays. But the rough cut version, before considerable editing, runs about two hours. So no one should have felt cheated.
Host Peter Sagal, a 48-year-old New Jersey native, wore a suit and tie for the occasion, during which no photographs were allowed.
WW...DTM!
last visited Dallas seven years ago for a show at SMU, he noted. But there are other ties. Sagal's father, Matthew, is a graduate of Highland Park High School.
"I say to you now as he said to you then," Sagal told a highly receptive audience. "Please don't beat me up again."
Sagal, also a playwright and dedicated long distance runner, delights in calling himself a "nerd" who's also become one of radio's royalty in the years since
WW...DTM!
's 1998 debut. But the program's golden-voiced announcer and weekly limerick-reader, 78-year-old Carl Kasell, emerged as the rock star Thursday night.
Voice mail or home answering machine messages read by Kasell are the show's only prizes. But they're very much treasured. And Kasell, not Sagal, became the center of attention during a brief Q&A session after the taping.
"Carl, will you be my grandpa?" a devotee shouted from the balcony.
"I'm not old enough," he responded.
A middle-aged woman in a way-too-short-for-her skirt requested a hug from Kasell. He obliged -- three times -- after she eventually made her way to the stage. Kasell also was asked to sign a pillow. That supposedly was arranged at a post-show reception.
The three weekly panelists, drawn from a pool of regulars, were comedian Paula Poundstone, Motel 6 spokesman/racconteur Tom Bodett and Kyrie O'Connor, senior editor and columnist for
The Houston Chronicle
.
In truth, O'Connor doesn't bring much to the party -- at least not on this night. Poundstone and Bodett riffed with a seemingly effortless ease, though. "I was one of the first people to recognize that the Central Expressway is neither," she said to big laughs.
Sagal, who has an enormous amount of verbal work to do, spontaneously observed at one point, "And this is every liberal in the city of Dallas." Pause, one-two. "I'm sorry, that's a cheap shot. Some of you are from Fort Worth."
He also wondered whether it might be "a little embarrassing to the Opera House that you guys sell it out for us."
WW...DTM!
also deploys a weekly celebrity guest. Dallas singer Erykah Badu filled that bill while sitting in a big, bright red cushioned chair for her segment. Sagal eventually got around to Badu's "controversial" (as he put it mildly)
2010 video for the single "Window Seat."
Arriving unannounced at Dealey Plaza, Badu got completely naked before collapsing at the spot where President John F. Kennedy was assassinated on Nov. 22, 1963. She then made as hasty an exit as she could under the circumstances.
"I was terrified because I felt I was overweight at the time," Badu told Sagal. More seriously, though, Badu said she was intent on taking a "performance art" approach while making a commentary on the evils of "groupthink." She eventually paid a $500 fine on a Class C misdemeanor charge of disorderly conduct.
Sagal said the video also underscored the "theory of a second hooter" at Dealey Plaza. There may be considerable debate over whether that dicey line makes the finished broadcast on Saturday. The live audience reaction seemed mixed.
Editing is now in progress, and there's a lot of content to pare before
WW...DTM!
makes another smooth landing on NPR Saturday.
Sagal is now back in Chicago, from where the show usually originates from the Chase Auditorium via WBEZ-FM.
"Thanks to Dallas for a great show at the Winspear," he
tweeted
Friday. "I return home with great memories, a hangover, and a grackle."
unclebarky@verizon.net