Seismic shift at KTXD -- from Perry Mason to D: The Broadcast
02/18/13 01:33 PM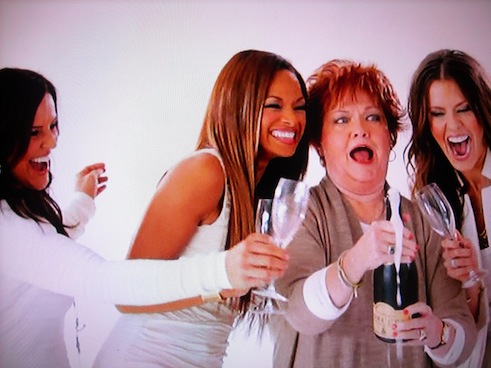 Left to right the rollicking hosts of D: The Broadcast: Lisa Pineiro, Pat Smith, Suzie Humphreys and Courtney Kerr. Photos: Ed Bark
By ED BARK
@unclebarkycom
From
Daniel Boone
at 8 a.m. to
D: The Broadcast
in the following hour. As audience flow goes, that's more than a bit like segueing from Lawrence Welk to Lady Gaga.
The primary baby-boomer target audience of D-FW's KTXD-TV (Ch. 47) likely was further put off its feed Monday morning when the ME-TV affiliate dropped oldies
Perry Mason
and
The Rockford Files
in favor of a giggly, gabby local version of
The View
(or
The Talk
) and the retitled
D Living
.
Both are productions of
D
magazine and its "
D
TV" offshoot.
Texas Living
, which used to air at noon, is still pretty much the same show with the same hosts. But
D: The Broadcast
is all new. It launched at 9 a.m. Monday with former CBS11 early morning anchor Lisa Pineiro; Emmitt Smith's wife, Pat Smith; Courtney Kerr from Bravo's short-lived
Most Eligible Dallas
series; and Suzie Humphreys, who also has been a part of the wizened elder contingent on KTXD's
The Texas Daily
.
Humphreys serves as the Ma Barker of this mix, but with a lot more starch in her. And she knows a crock when she sees or hears one, which viewers witnessed very early in the game Monday.
Pineiro, who for now also functions as the show's anchor/traffic cop, began by noting the passing of Mindy McCready. The country singer died at age 37 Sunday of an apparent suicide.
"She didn't have anything in her life that stood out to anybody to be particularly troubling," Pineiro said for some reason.
Humphreys immediately pounced. "Well, she had a
lot
of trouble," she said. "She had a lot of drugs." Not only that, but the "love of her life" (and father of McCready's 10-month-old son), committed suicide just a month earlier at the same site McCready did, Humphries noted.
Left unsaid was McCready's appearance in 2010 on VH1's
Celebrity Rehab with Dr. Drew
. Or her arrest on a drunken driving charge. Or her previous efforts to commit suicide. And so on. Other than that, though, nothing "particularly troubling."
Humphreys obviously will have to keep these comparative kids in check. Which might be the sole reason to watch a show whose other three hosts seem more than a little prone to hyperbole.
It was fun, for instance, to watch Humphreys almost grill Kerr about the crap that passes for reality on shows such as the widely ridiculed
Most Eligible Dallas
. Kerr kept ducking while also touting her spinoff show
Courtney Loves Dallas
, due on Bravo later this year, she said. Kerr termed it a "real life
Sex and the City
-- without the sex, mom." Humphreys seemed underwhelmed.
The hosts later welcomed young singer Noelle Bean (whose stage name is just Bean). After a little interview, she performed one of her songs, "Like to Love You." Pineiro, who didn't have a particularly good opening day, went a little nuts over it.
"You're going to be every bit as huge as Taylor Swift," she predicted. "Even bigger."
Even Humphreys got a bit caught up in this. "And the lyrics are fabulous," she said. "And you can understand them."
Smith kind of got lost in the shuffle on Day One. She did, however, join Humphreys for a cooking segment with chef Dean Fearing, whose seared halibut dish is being dedicated to
D: The Broadcast
all this week at his Ritz-Carlton restaurant. Smith let it be known she isn't much of a cook. Fearing let her play at making a salad.
The overall set looks pretty nice. It includes a desk, a couch and a mini-kitchen. And Humphreys is a salty dish of mixed nuts, which she'll have to be on a daily basis.
"They looked at a lot of people for this show -- and here we are," she said near the start of Monday's launch. "And I cannot figure out what I'm doing here."
It's far harder to imagine what
D: The Broadcast
would be without Humphreys. It might just float away. Meanwhile,
The Rockford Files
is gone for good and
Perry Mason
is now only at 10:30 p.m. weeknights following the daily repeat of KTXD's first home-grown production,
The Texas Daily
.
So far, none of the station's original local programs have drawn much more than "hashmarks" (no measurable audience) on any given day. And frankly, it's hard to see how
D: The Broadcast
and
D Living
fit between
Daniel Boone
and KTXD's 11 a.m. repeats of the original
Hawaii Five-O
.
At least they're trying, though. But will the station's core audience of older viewers be lost or greatly diminished in the process? We'll keep an eye out for you. And leave you with another picture.
unclebarky@verizon.net