Local Nielsen ratings snapshot (Fri.-Sun., Feb. 8-10) -- Grammys fall off charts but still command night
02/11/13 11:16 AM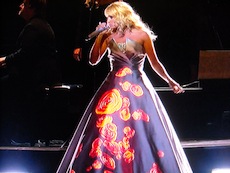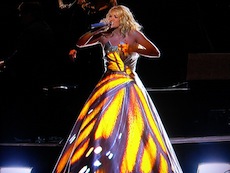 She's like a rainbow: Carrie Underwood lit up Grammys. Photos: Ed Bark
By ED BARK
@unclebarkycom
The 55th annual Grammys on CBS couldn't be expected to top last year's ceremony, which was preceded by Whitney Houston's death on the night before.
They indeed fell far short in the D-FW Nielsens while still thumping everything in their path.
Running from 7 to 10:30 p.m., the Grammys averaged 647,115 viewers, a big drop from the 1,022,880 last February. A total of 318,940 were in the advertiser-prized 18-to-49 age range.
Sunday's No. 2 prime-time attraction, the return of AMC's
The Walking Dead
, drew 261,600 total viewers in the 8 p.m. hour. An eye-popping 181,796 of them were 18-to-49-year-olds. That's the best percentage of any network series on any night -- broadcast or cable.
PBS' second-to-last Season 3 episode of
Downton Abbey
drew 178,989 total viewers, making it No. 3 in prime-time for the night. But just 28,705 were in the 18-to-49 demographic.
WFAA8's 10 p.m. local newscast showed considerable resilience opposite the closing half-hour of the Grammys. Its 227,179 total viewers were more than CBS11 could muster for its 10:30 p.m. local news, which had 192,758 viewers despite a big lead-in from the Grammys' closing 15 minutes (509,431 viewers). A big bank of commercials between the Grammys and the newscast didn't help matters. It's like putting a giant stop sign between your audience flow.
In Friday's prime-time Nielsens, CBS'
Blue Bloods
led all programming with 344,210 viewers in the 9 p.m. hour. The preceding episode of CBS'
CSI: NY
did almost as well (330,442 viewers) but the network's premiere of
The Job
deservedly bombed at 7 p.m. with 103,263 viewers. That put it fourth at that hour.
Fox's two-part return of
Touch
ran second at 7 p.m. with 165,221 viewers before falling to a third-place tie with NBC's
Dateline
at 8 p.m. (130,800 viewers each).
Friday's top draw with 18-to-49-year-olds was ABC's 8 p.m. hour of
Shark Tank
with 76,546.
The Job
had just 15,947 viewers in this key demographic while NBC's
Rock Center with Brian Williams
fared even worse with 12,758 in its first Friday 9 p.m. outing.
Here are Friday's local news derby results on the 7th weekday of the February "sweeps."
CBS11 won comfortably at 10 p.m. in total viewers but fell to last behind front-running WFAA8 among 25-to-54-year-olds (main advertiser target audience for news programming.
Fox4 notched another pair of 6 a.m. wins (it hasn't been beaten yet this year) while NBC5 did likewise at 5 p.m.
The 6 p.m. golds went to CBS11 in total viewers and Fox4 in the 25-to-54 demographic.
unclebarky@verizon.net