Local Nielsen ratings snapshot (Fri.-Sun., Feb. 1-3) -- Supah Dupah Edition
02/04/13 10:18 AM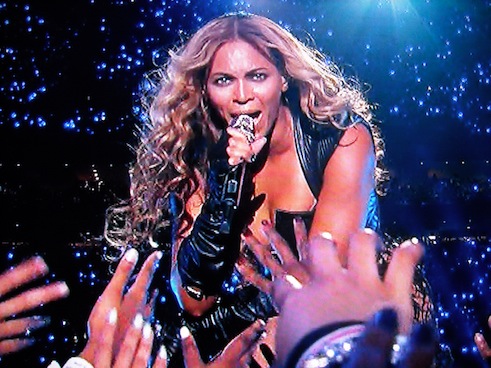 Beyonce brings it home near end of XLVII halftime show. Photo: Ed Bark
By ED BARK
@unclebarkycom
A high-scoring, down-to-the-wire finish couldn't keep Sunday's elongated Super Bowl XLVII on CBS from drawing the smallest D-FW crowd since the 2009 game.
Running from 5:31 to 9:45 p.m. and blitzed by a 34-minute second half power outage, the Baltimore Ravens' 34-31 victory over the San Francisco 49ers averaged 2,258,018 viewers with a peak crowd of 2,457,659 between 9:15 and 9:30 p.m.
Judging from the 15-minute increment numbers for D-FW, the blackout did not seem to significantly impact the overall rating for Super Bowl XLVII. In fact, some of the Ravens players are blaming it for super-charging the 49ers and sparking their rally. San Francisco trailed 28 to 6 and had a third-and-long situation when half of the New Orleans Superdome's lights went out at the 13:22 mark of the third quarter.
Last year's game, in which the New York Giants edged the New England Patriots, beat Sunday's XLVII with 2,404,477 viewers and a high of 2,635,125.
The 2011 Super Bowl XLV at Jerry's Palace remains the top D-FW draw in the past five years with an average of 2,791,057 viewers and a peak of 3,068,085.
Super Bowl XLIV in 2010 also whipped this year's edition with 2,599,153 viewers (and a peak of 2,911,323) for the storybook New Orleans Saints win over the Indianapolis Colts.
Sunday's extravaganza did manage to outdraw 2009's Super Bowl XLIII, in which the Pittsburgh Steelers nipped the Arizona Cardinals. That one averaged 2,125,760 viewers with a high of 2,431,338.
CBS' post-Super Bowl attraction, a new episode of the first-year series
Elementary
, fired up at 10:11 p.m. after a nearly half-hour post-game show. It had a nice-sized 619,578 viewers but fell sharply from the last portion of the post-game show (1,301,114 viewers).
Super Bowl XLVII of course obliterated all competing programming Sunday night. The most-watched attraction opposite the game, Fox's 7:30 p.m. episode of
Bob's Burgers
, drew 68,842 viewers.
In tamer surroundings, here are Friday's local news derby numbers from Day 2 of the four-week February "sweeps" ratings period.
CBS11 topped the 10 p.m. total viewer Nielsens but WFAA8 ran first with 25-to-54-year-olds, the main advertiser target audience for news programming.
Fox4 again swept the 6 a.m. competitions, although both NBC5 and WFAA8 were fairly close behind this time.
CBS11 won at 6 p.m. in total viewers while Fox4 nipped NBC5 for the top spot in the 25-to-54 demographic.
The Peacock ran the table at 5 p.m.
unclebarky@verizon.net