Local Nielsen ratings snapshot (Mon., June 1) -- nice numbers for Conan opener
06/02/09 11:44 AM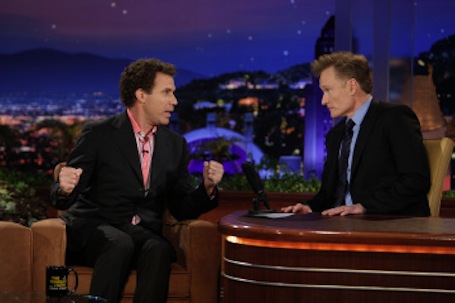 First guest Will Ferrell seems to have Conan's attention.
By ED BARK
Conan O'Brien's first
Tonight Show
ranked as NBC5's most-watched program Monday, but fell short of Jay Leno's Friday night swan song.
O'Brien's maiden
Tonight
, with guests Will Ferrell and Pearl Jam, drew 205,933 D-FW viewers in easily besting CBS' new episode of
Late Show With David Letterman
(73,073 viewers).
Tonight
also ruled among advertiser-coveted 18-to-49-year-olds, amassing 110,201 viewers in this age range to decimate
Late Show
's 32,412.
Leno's goodbye had 305,578 total viewers, with 142,613 of them in the 18-to-49 demographic.
NBC also premiered its sub-cheesy
I'm A Celebrity . . . Get Me Out of Here
, which filled the 7 to 9 p.m. slot and lured 159,432 total viewers. That tied it for second place overall with ABC's
The Bachelorette
. Three of CBS' four sitcom reruns --
The Big Bang Theory, Two and a Half Men
and
Rules of Engagement
-- won their half-hours while the network's
How I Met Your Mother
ran third from 7:30 to 8 p.m.
I'm A Celebrity
-- the definition seldom has been used more loosely -- moved up to second place overall among 18-to-49-year-olds.
At 9 p.m., the last new episode of
Medium
on NBC ran fourth in both ratings measurements, drawing 132,860 total viewers. A repeat of CBS'
CSI: Miami
easily won the hour with 285,649 viewers.
In Monday's local news derby, WFAA8 narrowly won at 10 p.m. in both total viewers and 25-to-54-year-olds, the main advertiser target audience for news programming. The respective second place finishers were CBS11 and NBC5.
The Peacock again dominated the 6 a.m. numbers, where it handily won the May sweeps and continues to coast. The 7 to 9 a.m. portion of Fox4's
Good Day
then recovered as usual to beat all three network morning shows.
NBC5 also had a big day in the 5 and 6 p.m. Nielsens, winning across the board.
WFAA8, no longer a powerhouse at these hours, tied for third with CBS11 at 5 p.m. in both measurements. WFAA8 also had a bronze at 6 p.m. in total viewers while running an out-of-the-money fourth among 25-to-54-year-olds.