They used to be giants: a look at WFAA8's imposing 1987 roll call
06/01/09 04:15 AM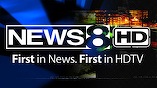 By ED BARK
No doubt about it, these are times of downsizing, content-sharing and double jeopardy for local TV newscasts around the country.
As May fades into the unclebarky.com archives, we begin June by revisiting a 1987 closing credit roll call for Dallas-based WFAA8.
No. 1, stations don't take the time to do this anymore. They're afraid you'll switch channels.
No. 2, this one is notable for its sheer volume and breadth. A total of 23 anchors and reporters are listed alphabetically, from Barbara Bousquet to Peggy Wehmeyer. And this doesn't include the Fort Worth, Austin and Washington bureaus. The station's "Contact 8" also had a separate staff as the consumer watchdog of those times.
The weather and sports departments likewise have separate headings under an operation headed by late news director Marty Haag. Photographers, editors, producers, etc. get their own subdivisions, too, as the names roll over aerial views of North Texas, ending with the downtown Dallas skyline.
One of the Dallas-based reporters, Mike Devlin, now is WFAA8's president and general manager. Two more, Andrea Joyce and Scott Pelley, still work at the network level. Twenty-two years later, only John McCaa, Gloria Campos, Dale Hansen, Byron Harris, Brad Watson and George Riba remain on-camera at WFAA8.
This was a mighty ship of state at the time, charting its own course, spending the big bucks and sharing with no one, including its Belo cousin,
The Dallas Morning News
.
Now all stations seem to be in much the same sinking boats, many of them navigated from afar by the networks that have turned them into owned-and-operated serfs. So pause for a minute if you would -- and this takes a full minute -- to see what used to be WFAA8. The accompanying music sets the tone for a nationally renowned news operation that knew no bounds and walked with a swagger.
No brag. Just fact.