Return of the two-headed weatherman -- NBC5 edition
08/28/12 12:44 PM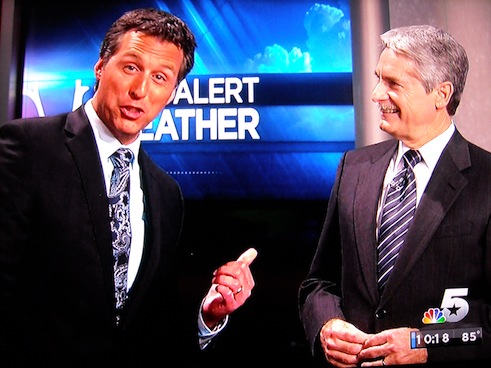 Transition edition: Newcomer Rick Mitchell with long-timer David Finfrock on Monday's 10 p.m. NBC5 newscast. Photo: Ed Bark
By ED BARK
@unclebarkycom
NBC5 began smoothing the way for its big 10 p.m. transition Monday by recycling WFAA8's two-headed weatherman gambit from several years back.
The guy taking over the late night highs and lows -- Rick Mitchell -- joined the dean of D-FW-'s temperature takers, David Finfrock, on Monday's edition.
"Unfortunately, he made me wash his car tonight," Mitchell joked as they stood side by side. "Part of the hazing that I have to go through."
As previously posted
, Mitchell is inheriting the 10 p.m. newscast -- as well as the 4 p.m. -- while Finfrock is relinquishing the late night weathercasts he's been doing since becoming NBC5's chief meteorologist in 1991. He'll now do the 5 and 6 p.m. editions en route to a planned May 2018 retirement that could be moved up if he chooses.
Mitchell, an 18-year veteran of Oklahoma City's KOCO-TV, originally had been named to be the Fort Worth-based station's
early morning meteorologist
. But his road to the top hit a much faster track last week when NBC5 announced a revised game plan.
WFAA8 deployed a similar strategy during the waning days of Troy Dungan's reign as its signature weatherman. Incoming Pete Delkus and Dungan teamed up on newscasts in hopes of making viewers feel completely at ease with the transition. The idea is to send the message that no one's being shoved out, we're all friends, this is a natural course of events, etc.
WFAA8 management later stopped being friendly with Dungan after he
anointed CBS11's Larry Mowry as his favorite weatherman
during that station's ratings "sweeps" feature story on Dungan's retirement years.
After first sharing the screen, Mitchell and Finfrock did separate weathercasts Monday night -- just like Delkus and Dungan did for a while.
The newcomer got his first local mis-pronunciation under his belt -- calling Waxahachie Waxa-"hashy" -- while also doing a little riff that quickly established him as more animated and playful than Finfrock cared to be.
"We have different computer models. We've plotted all of those on what we call a 'spaghetti plot,' " Mitchell said of several thin pink, blue and yellow lines bisecting his weather map. "Because it kind of looks like spaghetti. I'd hate to think what (it would look like) if it was called the ravioli plot or something like that."
NBC5's announcement last week said that Finfrock and Mitchell "will work together transitioning responsibilities . . in the coming weeks."
It's likely to be a short-term engagement, though, compared to the time that Delkus and Dungan spent together.
"All right, Rick Mitchell, the hazing has only begun," co-anchor Meredith Land told him after Monday night's two-headed stint. "So happy to have you."
Still up in the air is whether NBC5's viewers will feel likewise.