"And if someone won't take our call, we will track them down."
08/03/12 01:50 PM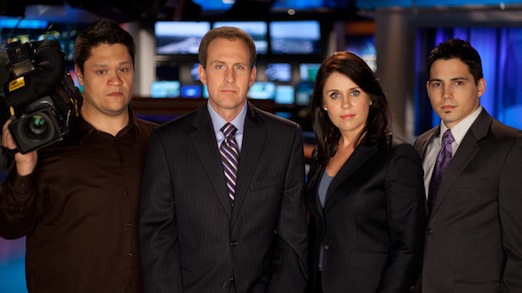 NBC5's new hit-the-ground-running investigative team: From left, photographer-editor Peter Hull; reporter Scott Friedman; investigative producer Eva Parks and researcher Shane Allen.
nbcdfw.com photo
By ED BARK
@unclebarkycom
NBC5 understandably is using its network's potent Olympics platform to promote the virtues of its news anchors and, for the first time, its investigative team.
Headed by the very capable Scott Friedman, NBC5's
four-member bloodhound unit
pledges to "dig in to find the truth, make
the powerful accountable."
This is basic boilerplate language. But it comes from a station that for many years didn't have any official in-house investigators, let alone a team.
Friedman, formerly co-anchor of NBC5's early morning news program, headed an investigative unit at WTMJ-TV in Milwaukee before arriving in Fort Worth a little over six years ago. He fronts the new 30-second spot, but his off-camera mates also are shown in action. Namely, photographer-editor Peter Hull, investigative producer Eva Parks and researcher Shane Allen.
"There's no question we're afraid to ask," Friedman proclaims up top. "And if someone won't take our call, we will track them down."
That's a little too threatening, especially coming from a media company. In this TV market, NBC5 is better than most at actually responding to questions about how it operates. Even if it's often a "no comment" or a generic one-size-fits-all statement, as when longtime anchor Jane McGarry recently
"resigned" from NBC5
.
CBS11 also addresses most questions sent its way while Fox4 relays virtually everything through a corporate spokesperson in New York. WFAA8 president and general manager Mike Devlin has a standing "no comment" policy regarding inquiries from unclebarky.com. His recently hired first lieutenant, news director Carolyn Mungo, likewise has ignored all questions from your friendly content provider.
I bring this up because stations vowing to "track down" wrongdoers also should be at least a bit accountable when it comes to the misadventures or dismissals of their own employees.
After all, as Friedman says in the promo, NBC5's hard-charging investigative unit is "tough, unafraid. And we're working for you." And many of you have indicated you'd like to be more in the know about the comings and goings of the TV news people who come into your homes as "family."
Fox4 and CBS11 also have just one on-camera investigative reporter apiece -- respectively Becky Oliver and Ginger Allen. WFAA8 has the awards-laden duo of Byron Harris and Brett Shipp.
NBC5 is smart to tout a solid front man such as Friedman. Its first effort takes the usual tack of promising too much. Just how much Friedman and company will be able to deliver is another story. But at least the station is back in the game.
Here's the promo:
View more videos at: http://nbcdfw.com.