The time is now: Gloria Campos ending 22-year tenure as WFAA8's weekday 6 p.m. co-anchor
08/17/12 07:19 AM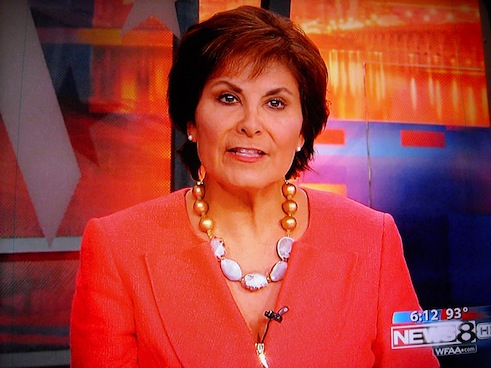 Gloria Campos on Wednesday's 6 p.m. WFAA8 newscast. Photo: Ed Bark
By ED BARK
@unclebarkycom
Gloria Campos, part-timer.
Those words seem opposed to one another. But after 28 years at Dallas-based WFAA8, the last 22 as the first Hispanic of any gender to be permanent anchor of a weekday D-FW newscast, Campos' last regular 6 p.m. edition will be on Friday, August 17th.
"Life is full of transition, and I'm ready for that transition in my life," Campos, 57, said in a phone interview minutes before heading to the station's Victory Park studios for Thursday's newscasts.
After a short break, Campos is scheduled to return on the day after Labor Day, Sept. 4th, to rejoin co-anchor John McCaa on the 10 p.m. edition. Under her new 18-month contract, it will be Campos' only newscast of the day. As previously reported, Shelly Slater will be the new 6 p.m. weekday anchor, in tandem with McCaa.
"To be honest with you, I've been preparing for this for quite a while," Campos said.
She first approached station management in 2008 with the idea of cutting back and gradually weaning herself from the mothership.
"I told them, 'Hey, you can cut my salary by a big chunk if you'll let me work part-time," Campos recalled.
The station declined, but revisited the idea after her latest three-year contract ran its course. In times when station profits and newscast ratings continue to erode, the idea of giving a well-paid anchor a substantial pay cut didn't seem so bad after all. And Campos insists that this was her initiative, not a case of management marginalizing her, as NBC5 did by initially removing both Mike Snyder and Jane McGarry from its 10 p.m. newscasts while at the same time sharply cutting their salaries. (Neither is with the station anymore. Snyder was let go and McGarry recently "resigned" after pleading no contest to a DWI charge and apologizing on her Facebook page.)
Campos said it's a case of legitimately wanting to spend "more me time" away from the station and with her husband, Lance Brown. They are the parents of 19-year-old twin sons, Greg and Tony.
"We don't live lavishly. We don't have any debts," she said. "Believe it or not, I've always had that mindset that this job could disappear tomorrow. No one is irreplaceable. I certainly am not queen around here. I want to be the master of my fate as much as I can be. I think that's quite remarkable in this business."
Management said she could arrive as late as 6:30 p.m. for her new part-time shift. But Campos said she'll be more comfortable in the early going with a 5 p.m. check-in.
She joined WFAA8 in 1984 from KGBT-TV in Harlingen, TX, where she anchored the 6 and 10 p.m. newscasts and also produced the late night edition. Campos interviewed at KDFW-TV (now known as Fox4) and KXAS-TV (now NBC5) before being hired by the late Marty Haag, who was WFAA8's hard-driving news director through most of the 1970s and '80s.
"I came here with no aspirations of being an anchor," Campos said. But Haag had other plans after earlier making Iola Johnson D-FW's first African-American news anchor in 1973.
Campos first co-anchored WFAA8's midday newscasts before moving to weekends. In early January of 1990, she took a big step forward to the 5 p.m. weekday newscasts, co-anchoring with the late Chip Moody. Within several months, Campos got the 6 p.m. slot, which in those days was a much bigger deal than it is today. In June of 1990, the Dallas Hispanic Council honored her as the "first Hispanic to anchor a weekday 6 p.m. TV newscast in Dallas."
"I'd kind of forgotten that," Campos said when reminded. "When you look at it that way, I guess it is kind of an end of an era. We're so much more diverse now."
Campos will still fill in on occasion at 6 p.m. And Slater's pregnancy likely will mean at least an interim return. "But there's a limited amount I'll do," she said.
Slater has been a lightning rod among some commenters on unclebarky.com. They mainly find fault with her delivery and voice inflections. But Campos said that's nothing new.
"When I said I was going to Channel 8, someone asked me, 'Why would you want to come here? They don't like Mexicans in Dallas,' " Campos recalled. "But I don't have control over that."
Former
Good Morning America
anchor Joan Lunden had the right approach, Campos said. "Even if not everyone likes me, enough people like me. I've always felt the same way. I've never deluded myself that I'm everyone's cup of tea."
She has a soft spot for Slater, a Plano native who visited Campos at WFAA8 when she "was a little girl," Campos said. "She had written me a letter about her interest in TV news, and I showed her around the station. I think she was about 11 years old. So we have a history, and of course I wish Shelly the best. People get to know you after you've been on the air a while. They get more comfortable with us. No matter who you are, you have to earn the acceptance of the viewers. And that takes time."
Campos' new 18-month contract with WFAA8 will expire in the first half of 2014. After that she's not sure about what's next.
"I can't definitely say I'm gonna walk out the door in 2014 and never come back," she said. "But when it does come time to separate, that's going to be the hardest part. Because I love the people at Channel 8."
Campos' long tenure as a featured anchor, nearly matched by McCaa's, is exceeded only by Clarice Tinsley's nearly 35 years as an anchor at KDFW-TV (Channel 4), which was a CBS affiliate station when she started there.
As for future anchor longevity, "it's a big question mark, isn't it?" Campos said. "But my gut tells me that we probably won't be seeing these 'legacy anchors,' as people call them."
She doesn't want any fanfare at the end of Friday's 6 p.m. newscast.
"I really don't want them to do anything because I don't want to cry on TV," she said when asked. "I've come close many times before because the news can be so bad. So I hope they don't mention it."
It
is
the end of an era, though. No doubt about it. And so attention will be paid -- in these spaces at least.