Reunion towers: former WFAA8 news stars Rowlett, Johnson, Dungan on TV together for first time since 1985
10/25/12 11:36 AM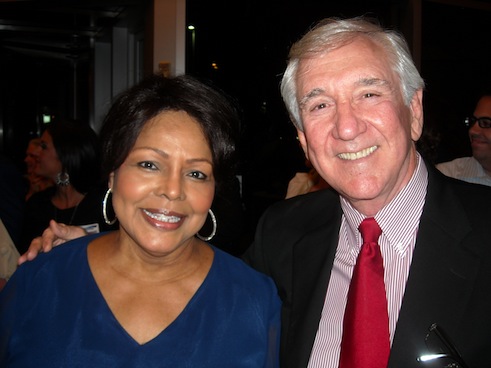 Iola Johnson, Tracy Rowlett at recent kickoff event for Texas Daily.
Photo: Ed Bark
By ED BARK
@unclebarkycom
Together again on TV for the first time in more than 27 years -- Tracy, Iola and Troy.
Their scheduled venue is the
Tuesday, Oct. 30th
8 a.m. edition of KTXD-TV's (Ch. 47)
The Texas Daily
, where former WFAA8 news stars Tracy Rowlett, Iola Johnson and Troy Dungan are scheduled to be that day's featured attractions.
Along with sports anchor Verne Lundquist, they were a ratings juggernaut for WFAA8 from 1975 into the early/mid-1980s.
Lundquist, still a major presence with CBS Sports, was the first to leave in 1982.
Johnson departed WFAA8
on Feb. 28, 1985 after becoming D-FW's first African-American news anchor a decade earlier. Rowlett began anchoring for rival CBS11 in early 2000. And Dungan retired as WFAA8's chief weathercaster in July of 2007.
Rowlett and Johnson re-teamed to co-anchor CBS11's 4 p.m. local newscasts from 2000 to 2002. But Tuesday will mark the first time since early 1985 that Dungan will make it an on-camera threesome.
'Iola and I have remained close friends through the years," Rowlett said in an email reply. "She was perhaps the most popular anchor ever in the D-FW market and possessed a God-given talent that is rarely seen.
"Troy is one of my closest friends, and I have always seen him as a broadcaster's broadcaster, a delight both in front of and behind the camera. Iola, Troy and I share many memories and pulled together through both the glad times and the sad times."
Rowlett said he hoped to "be able to skype Verne in on a future broadcast so the four of us can be reunited."
As
previously posted
,
The Texas Daily
, which launched on Oct. 1st, uses a rotating group of former D-FW news personalities to comment on various issues of the day. The one-hour program, now repeated at 6 p.m. weekdays, is hosted by former WFAA8 anchor-reporter Jeff Brady. Its target audience is baby-boomer viewers aged 50 and older. Most advertisers pay a premium for supposedly more "impressionable" 18-to-49-year-olds. But KTXD is hoping to profit from aiming its programming at what the station believes is a grossly under-served pool of avid TV watchers.
Below is a publicity shot of (left to right) Rowlett, Lundquist, Dungan and Johnson during their WFAA8 heyday.
unclebarky@verizon.net