Should size matter? WFAA8 anchor-reporter Debbie Denmon charges the station with discrimination based on her weight
09/22/11 11:29 AM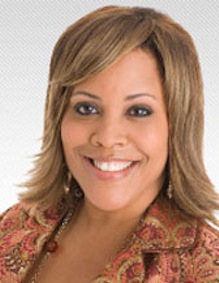 Debbie Denmon in wfaa.com photoBy ED BARK
WFAA8 anchor-reporter
Debbie Denmon
, dissatisfied with her treatment by management, has filed a discrimination suit against the Dallas-based station.
Multiple informed sources, both outside and inside WFAA8, have confirmed that Denmon's complaint is not primarily on the basis of age, sex or gender. She instead contends that her weight is being held against her, specifically in regards to landing a weekday anchor position.
Denmon, who joined WFAA8 in October 2000 according to her station bio, has anchored weekend evening and late night newscasts since February 2010. Attempts to reach her for comment have been unsuccessful in the past week. She continues to work at the station. WFAA8 president and general manager Mike Devlin and news director Michael Valentine also have not answered emails requesting a statement from the station. Plainly put, no one at the station will talk on the record.
Proceedings are ongoing, though. Several WFAA8 staffers, including sports anchor Dale Hansen, already have appeared at a deposition hearing after being summoned by the plaintiff. "There's been testimony going on for a couple of weeks," said one source.
Hansen in essence is Denmon's Exhibit A, according to sources. The outspoken sports anchor has gotten notably heavier during his three decades as WFAA8's main sports anchor. He regularly jokes about it on the air, calling himself an old, fat, white guy with thinning hair. Hansen also has referenced the various diets he's tried over the years, none of which have really taken hold. Denmon argues that he's been given special treatment while her weight is perceived as a detriment to job advancement by management. Hansen, 63, currently has two years remaining on his latest contract.
Matters reached a boiling point, according to sources, when Denmon applied for a weekday 5 p.m. anchor position, but was bypassed in favor of WFAA8 newsroom colleague Shelly Slater. She alleges that her weight became an issue in the matter, and that she was told to slim down.
All of D-FW's major television news providers have done umpteen miracle diet stories over the years. Meanwhile, some prominent anchors and reporters of long duration at their stations have grown visibly bulkier over the years. Some, such as former longtime NBC5 anchor Mike Snyder, used his personal blog on the station's website to chart his latter day effort to lose weight. It can be a very touchy subject in a business where on-air appearance is important while it's not uncommon for news directors to be plus-sized.
Sources say that WFAA8 still has a contractual clause requiring any claims of discrimination to eventually be resolved by mandatory binding arbitration rather than in a courtroom. It can be a lengthy process. Former WFAA8 anchor Scott Sams was forced to go the arbitration route after being dropped by the station in 2004. In January, 2007, an arbitrator ordered WFAA8 and its parent company, Belo Corp., to pay Sams $683,771 in back wages, damages and attorneys' fees. That's a sizable sum, but Belo said it represented just four percent of what Sams originally asked for. Both sides claimed victory.
Sams' dismissal from WFAA8 "was because of his religion, his age and the fact that he's a white guy," Sams' Dallas-based attorney, Hal Gillespie, said at the time.
Gillespie also represented CBS11 veteran reporter Bud Gillett in his July 2009 suit against the station. Gillett charged CBS11 with discrimination on the basis of his age, sex, race and national origin. He later dropped the suit and still works at the station.
Gillespie has not responded to an email asking whether he also is representing Denmon in her discrimination charge.
Earlier in her career at WFAA8, Denmon and Michael Rey co-anchored the station's weekday editions of
Daybreak
until they were supplanted in fall 2005 by the team of Justin Farmer and Jackie Hyland. The station since has had a carousel of male
Daybreak
anchors while also hiring current incumbent Cynthia Izaguirre to replace Hyland.
Denmon has remained at WFAA8 throughout that period. She had anchored weekend editions of
Daybreak
before being promoted to the more visible evening and latenight weekend newscasts. Her discrimination suit's focus on weight issues apparently is a first in this market.