Real Housewives of Dallas ticks upward (in ratings not content)
05/17/16 04:50 PM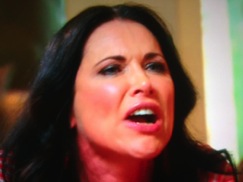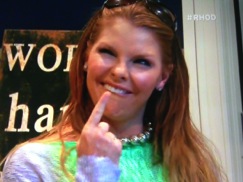 LeeAnne does another LeeAnne & Brandi mocks her husband picking his nose on Episode 6 of Real Housewives of Dallas. Photos: Ed Bark
By ED BARK
@unclebarkycom on Twitter
The national ratings returns remain pretty dismal for Bravo's
Real Housewives of Dallas
. But at least the numbers for Monday night's Episode 6 headed northward.
RHOD
drew 883,00 viewers, a decent bump from the season-low of 789,000 for the previous week's episode. But the show still fell substantially from its 8 p.m. (central) lead-in,
Southern Charm
, which had 1,161,000 viewers. Both shows had a .4 rating in the advertiser-prized 18-to-49-year-old demographic.
RHOD
still is averaging well below one million viewers per episode and remains the least-watched
Housewives
franchise of all time. Still, a week-to-week increase of 94,000 viewers beats a kick in the head, even if the show's content most certainly doesn't.
Monday's hour included gal pals LeeAnne Locken and Tiffany Hendra praying to God for guidance before confronting mutual friend Marie Reyes at her lovely home about a series of unflattering text messages aimed at LeeAnne and sent by Marie to Tiffany.
LeeAnne also surmised that God probably wanted her to see those messages in order to make her see the light or something. I think God likely was watching the competing Oklahoma City Thunder-Golden State Warriors Western Conference Finals opener on TNT. But maybe not. Maybe He's really a closet
RHOD
fan. Just don't tell the Holy Ghost.
LeeAnne ended up throwing another banshee fit before the cameras found something else to do.
Meanwhile, Brandi Redmond and her husband, Bryan, continued to drift apart, but not until the every end of the episode, when he walked out on her at a restaurant after she got weepy again. Earlier, Brandi regaled best friend Stephanie Hollman by demonstrating how Bryan picks his nose. The guy does seem like kind of a slug.
The fifth wheel, Cary Deuber, got involved in some sort of weird photo shoot while her creepy husband, Mark, encouraged her after picking out some dresses. This ostensibly was for the benefit of their plastic surgery practice, whose website needs an overhaul. Cary went topless at hubby's urging, but advertiser-supported Bravo and
RHOD
stayed in the side boob safe zone.
There are four more episodes to go in
RHOD
's first season before Bravo decides its fate. If the show can somehow inch back up to the 1 million viewers mark (a level it hasn't hit since the premiere hour), then there might be at least a small chance of getting renewed. But the latest episode still ranked just 65th in total viewers among the top 100 Monday cable shows tabulated by
tvbythenumbers.
So there's much work to be done. And it might require head cheerleader and surrogate
Housewife
"Oh So Cynthia" Smoot
to go door-to-door with leaflets -- starting right now.
Email comments or questions to:
unclebarky@verizon.net