Larissa Hall shifing responsibilities with Tribune-owned CW33 and its prime-time Nightcap news show (updated and clarified)
12/19/12 08:36 AM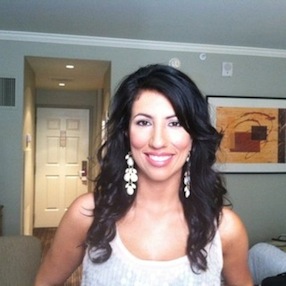 By ED BARK
@unclebarkycom
After four months in the position, CW33 director of content Larissa Hall will be charting a different course and splitting time between the Dallas-based, Tribune-owned station and the East Coast.
Her new husband, Rob Cartwright in Syracuse, NY, is news director for that market's ABC affiliate, WSYR-TV. Cartwright previously was an assistant news director at CW33.
According to a Chicago-based Tribune Broadcasting spokesman who sought to clarify matters Wednesday, Hall will remain with the company and in Dallas at least part of the time. She'll also be spending a good deal of time in Syracuse while additionally working on "a few other projects that we've basically asked her to take on," the spokesman said. The new time-sharing role takes effect on Dec. 28th.
Hall, who initially presided over CW33's early morning
Eye Opener
program,
became director of content in mid-August
. Her primary responsibility was to launch a 9 p.m.
Nightcap
hour modeled after
Eye Opener
. Both programs take a comedic approach to whatever is deemed to be the news of the day. Regular features on
Nightcap
include "Fat Guy Fitness, My Crappy Commute" and "Googlechondriac." Hall will remain involved with the future direction of
Nightcap
, according to Tribune.
In preparation for
Nightcap
, which
debuted on Nov. 1st
, the existing CW33 news staff was cut in half. Some younger replacements have been hired, with anchor Amanda Salinas and reporter Barry Carpenter the only veteran holdovers from the early days of former news director David Duitch. He's now the editor of
The Dallas Morning News
website page after a turbulent four-year tenure marked by firings, hirings, major content overhauls and sinking ratings.
Ratings for
Nightcap
likewise have been dismal so far, with the program averaging just 13,768 viewers during the recently concluded November "sweeps." Monday's edition registered "hashmarks" (no measurable audience) in both total viewers and advertiser-prized 18-to-49-yer-olds. On-air staffers now are called "Story Tellers" rather than reporters.
Denise Killian, who had been assisting Hall on
Nightcap
is expected to be the principal hands-on conductor of the program while also moving up to the director of content position. The Tribune spokesman emphasized that the company remains committed long-term to
Nightcap
and its decidedly different offbeat takes on the news.
unclebarky@verizon.net