A grand old soap opera: TNT's Dallas has world premiere at Winspear
06/01/12 11:39 AM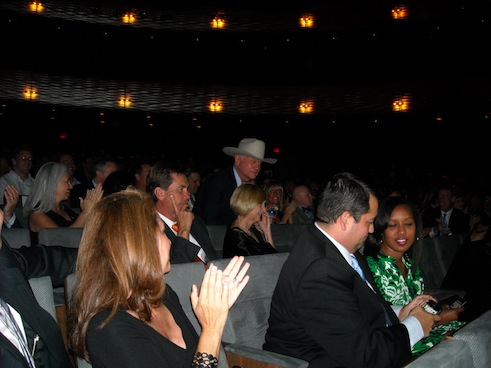 Face in the crowd: Larry Hagman takes a bow at Thursday night's world premiere of Dallas at the Winspear Opera House. Photos: Ed Bark
By ED BARK
@unclebarkycom
Dallas
officially returned to Dallas Thursday night with the gala world premiere of the first two episodes of TNT's reboot.
The three principal links to the series' storied past -- Larry Hagman, Linda Gray and Patrick Duffy -- were duly accounted for and introduced one-by-one before the screening began inside the Winspear Opera House.
All of the new arrivals likewise took bows, including Brenda Strong as Bobby Ewing's third wife, Ann; Josh Henderson as J.R. Ewing's no-good son, John Ross; and Jesse Metcalfe as Bobby's goodly son, Christopher.
The original
Dallas
ran from 1978 to 1991 on CBS, ranking in prime-time's top 10 for seven of its seasons and No. 1 for three of them. Its final episode aired on May 3, 1991, but several subsequent made-for-TV movies kept the chicanery in play at Southfork Ranch.
TNT will begin anew on Wednesday, June 13th, with 10 episodes ordered and all of them already completed. We'll have a full review closer to the appointed night. But as
previously posted
, the pilot episode likely won't disappoint longtime fans of the serial soap and might well draw in a large number of new ones. It's handsomely shot, deviously plotted and, as usual, heisted by Hagman's J.R., who at age 80 hasn't lost his knack for stealing every scene he's in.
Before the screening, TNT president Steve Koonin told attendees that the original
Dallas
was mostly filmed in Los Angeles, with its namesake city used only for exteriors.
Not quite. During early seasons, the cast spent a minimum of two sweltering months each summer in Dallas, and it was for far more than establishing shots. In contrast, the first five episodes of
Dallas
were shot in and around the city during the particularly frigid and snowy winter of 1977-78. The very first episode hit home screens on April 2, 1978.
TNT, after some wrangling, agreed to film the complete first season on location in Dallas. "This is your city," Koonin said. "And it's an important character in the show."
Koonin also noted that his first date with his current wife of 29 years dovetailed with the 1982-83 cliffhanger finale of
Dallas
, which ended with Southfork ablaze. Being a devoted
Dallas
fan, she didn't want to leave the house that night, Koonin said. But he had a vintage VCR and coaxed her to first go out with him and then end the night at his place, where they could watch the tape together.
The plan worked, and all these years later, "I am J.R. Ewing's boss," Koonin said.
After the screening, guests dined on a Wolfgang Puck spread and could sample the appropriately named "Bourbon Backstabber" if they chose. It's a mix of Jack Daniels, Triple Sec, lemonade and Sierra Mist. Didn't have one. Had to drive.
Here are a few more pictures from Thursday night's festivities.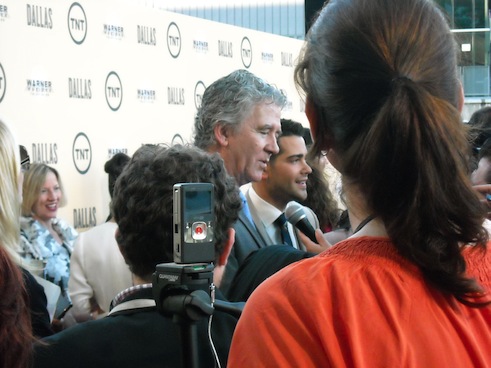 Duffy side-by-side on the red carpet with TV son Metcalfe.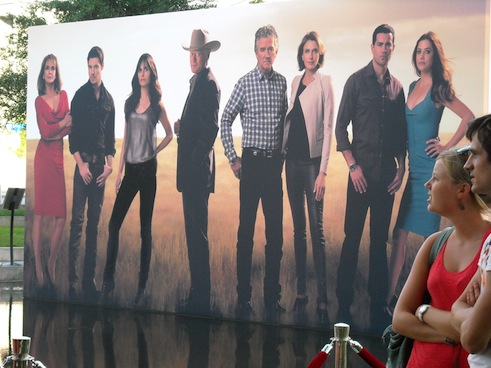 Looming large -- in person and life-size TNT promotional placard.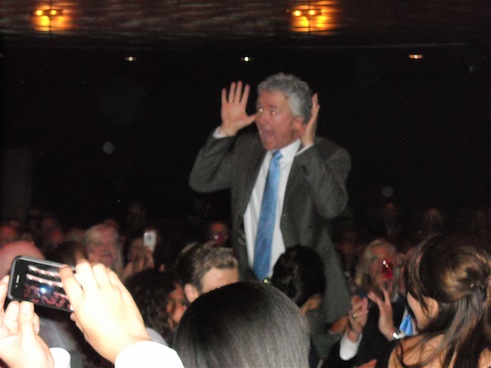 Duffy makes a face at Hagman, who was seated a bit downwind.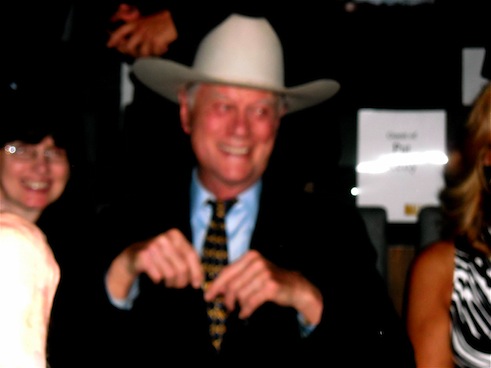 A shot in the dark: Hagman aglow seconds after screening.