Local Nielsen ratings snapshot (Feb. 2-4) -- big dip for Supie LII
02/05/18 10:54 AM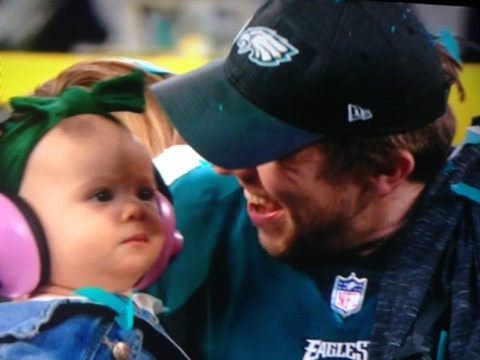 Super Bowl LII MVP Nick Foles and guest. Photo: Ed Bark
By ED BARK
@unclebarkycom on Twitter
Offensive fireworks and a down-to-the-wire finish weren't enough to reverse a season-long ratings decline for the NFL, with even the Super Bowl slumping to the smallest audience in D-FW since the 2009 game.
The Philadelphia Eagles' first Super Bowl win, a 41-33 nail-biter over the defending champion New England Patriots, plunged well below last year's jaw-dropping New England comeback victory over the Atlanta Falcons.
Supie LII averaged 2,214,973 total D-FW viewers on NBC and fell below the one million mark among advertiser-prized 18-to-49-year-olds with 889,371. Last year's Super Bowl pulled in 2,675,765 total viewers and 1,154,556 in the key 18-to-49 demographic.
The Pittsburgh Steelers' narrow win over the Arizona Cardinals in the 2009 Super Bowl had 2,125,760 viewers, the lowest total since unclebarky.com came into existence in 2006. The D-FW record-setter since that time is still 2011's edition from Jerry's Palace. A total of 2,791,057 viewers watched the Green Bay Packers whip the Pittsburgh Steelers after an unprecedented week-long onslaught of snow and ice in North Texas.
NBC did get some good news, though. A post-Super Bowl LII episode of
This Is Us
fared far better than last year's enticement on Fox.
Fans of the series got the long-awaited answer on exactly how Milo Ventimiglia's Jack Pearson died. Airing from 9:45 to 10:45 p.m.,
This Is Us
drew 719,332 total viewers, with more than half of them -- 402,557 -- within the 18-to-49 motherlode. Fox's 2017 post-gamer, the premiere of
24: Legacy
, had a comparatively puny 385,368 total viewers and 141,112 in the 18-to-49 realm.
In contrast, Fox hit the post-Supie jackpot in 2011 following the Packers-Steelers game. A special episode of
Glee
amassed 983,449 total viewers.
In Saturday's prime-time Nielsens, NBC's two-hour
NFL Honors
special bombed with just 78,343 total viewers. It was outdrawn from 8 to 10 p.m. by a repeat of Fox's new medical series
The Resident
(99,709 viewers), Fox4's 9 p.m. local newscast (also 99,709), and two episodes of CBS'
48 Hours
(85,465 and 106,832 viewers).
In the 18-to-49-year-old universe,
NFL Honors
improved to a second-place finish behind ABC's competing Houston Rockets-Cleveland Cavaliers game.
Friday's prime-time parade was led by CBS'
Blue Bloods
in total viewers (242,151) and NBC's
Dateline
in the 18-to-49 age range (37,447).
In closing, here are Friday's local news derby results.
CBS11 uncommonly celebrated with wins at 10 p.m. in both total viewers and among 25-to-54-year-olds (main advertiser target audience for news programming).
Fox4 again dominated at 6 a.m. before the 7 to 9 a.m. portion of
Good Day
crushed the competing network morning shows on ABC, CBS and NBC.
Good Day
generally thrives during these hours, but its victory margins at this point are the most decisive in recent memory. The station still hasn't lost at 6 a.m. in either measurement throughout this ongoing winter.
NBC5 otherwise enjoyed the 5 and 6 p.m. results, running the ratings table at each hour.
Email comments or questions to:
unclebarky@verizon.net