Hey Mavericks, the Badgers' Jon Leuer is going to be available (Take him!)
06/23/11 03:48 PM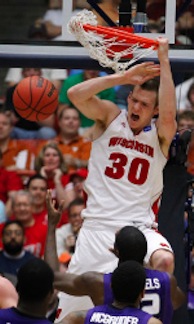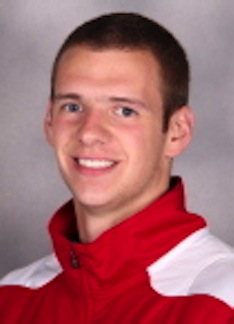 By ED BARK
With the 26th pick in the 2011 NBA draft, the Dallas Mavericks select University of Wisconsin forward Jon Leuer.
Apparently that's not going to happen. And as a University of Wisconsin grad, maybe I'm wearing my Barky Bucky Badger blinders here. Still, I can't believe that the 6 foot 10 inch, 228-pound Leuer is barely a part of the first round draft pick conversation. Some prognosticators have the Chicago Bulls taking him with the 30th and final pick in Round 1. That's as high as he gets, meaning the Mavs really could get a steal here.
OK, Leuer's a white guy, and he's not European. But he
can
jump, averaging 7.2 rebounds and 18.3 points in his senior year in the rugged Big Ten conference. Both were good enough to rank him in the Top 5. And he was on the all Big Ten first team.
Not only that. Leuer shot 84 percent from the foul line and 37 percent from three-point range. His jump shot is feathery and lethal from the 12-to-15 ft. range. Plus, he has an accomplished post-up move, good ballhandling skills and knows how to drive to the basket. Remind you of any big tall German guy currently playing for the Mavs?
Wisconsin players have done all right for Dallas. In fact there's something of a tradition. Michael Finley was a star at the UW and so was Devin Harris. And Caron Butler, who hopefully will get a chance to really shine next season, is a native of your friendly content provider's hometown of Racine, WI.
Finley had many productive years here. Harris got traded early in his career, but at least the Mavericks got Jason Kidd in return. Butler was Batman Dirk Nowitzki's Robin before that nasty knee injury ended his season.
Leuer should have more allure, and I'm mystified as to why he doesn't. But I guarantee you he's going to be a solid pro, with the potential to average 12 points and 8 rebounds a game if not more. He'd make a terrific addition to the Mavericks, and I really hope owner Mark Cuban, GM Donnie Nelson and head coach Rick Carlisle at least have Leuer on their collective radar.
Maybe Leuer in part is paying the price of having a terrible final game in the NCAA tournament against eventual finalist Butler. He shot one for 12 from the field and had just 3 points and 5 rebounds in a 61-54 loss that ended Wisconsin's 2010-'11 season.
But that was one game. And Leuer had come up big against quality teams all season. So c'mon, Dallas, pick Leuer and then watch him have a far better NBA career than fave rave Jimmer Fredette, who almost certainly will go somewhere in the Top 20 Thursday night.
If I'm eventually proven wrong, I'll say so. But Jon Leuer is going to make a lot of NBA teams wish they had taken him. I just hope the Mavericks aren't one of them. Unfortunately, though, that looks like a long shot.
Here's a two-minute highlight video of Leuer in action: