WFAA8's next news director could be a first for D-FW market (amended)
01/23/12 12:11 PM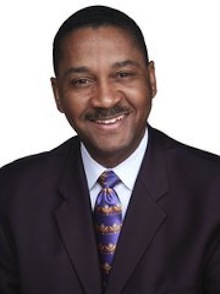 Kurt Davis in Facebook photoBy ED BARK
WFAA8's ongoing search for a new news director may be nearing an end.
Reliable sources say that Kurt Davis, executive news director at CBS affiliate KENS-TV since September 2003, has emerged as a leading candidate. KENS and WFAA8 are both owned by Dallas-based Belo Corp. The position became vacant when
Michael Valentine accepted a Belo corporate position
in late December.
If Davis gets the WFAA8 position, he would become the D-FW market's first African-American male news director.
Kim Godwin
, currently a senior producer at CBS News, was KXAS-TV's vice president and news director from 1998 to 2001.
A 1983 graduate of Louisiana State University, Davis previously interviewed in 2010 for the news director's position at D-FW's CBS11. But the station instead chose Adrienne Roark from CBS-owned WFOR-TV in Miami. He does not lack for confidence. On the San Antonio Association of Black Journalists website, Davis is quoted as saying, "When it comes to TV and the ratings, I like to win. I'm a winner, and I like being part of winning propositions. For me, KENS-5 is a winning proposition, and I'm very happy and very proud to be here."
The New Orleans native also has held management positions in the news departments of WDSU-TV in New Orleans and WSB-TV in Atlanta.
Early in his career Davis also worked for several years at Dallas-based KDFW-TV (now better known as Fox4) when it was a CBS affiliate. He was an executive news producer at the station during the early 1990s.