Local Nielsen ratings snapshot (Fri.-Sun., Jan. 11-13) -- Globes roll for NBC while NFL scores bigger for Fox, CBS
01/14/13 10:13 AM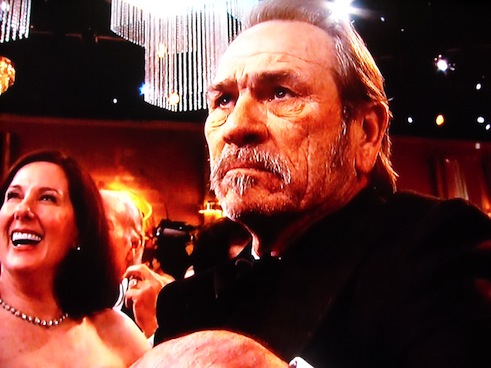 Tommy Lee Killjoy: Often unpleasant in real life, he didn't take well to an extended comedy bit by Golden Globe presenters Will Ferrell and Kristin Wiig. The Twitterverse duly noticed. Photo: Ed Bark
By ED BARK
@unclebarkycom
Sunday night's 70th annual Golden Globes awards ceremony on NBC lapped up the lion's share of the prime-time audience while falling far short of the weekend's four NFL playoff games.
The Globes, winningly co-hosted by Tina Fey and Amy Poehler, averaged 392,399 D-FW viewers, with 204,122 of them in the sainted 18-to-49-year-old demographic. Next month's Oscars would love to have that big a percentage of advertiser-prized viewers.
Fox and CBS otherwise had ratings field days with their quartet of NFL playoff games. In order of popularity, here are the total viewer figures (with audience levels reflecting actual running times, including the Baltimore Ravens-Denver Broncos double overtime game).
Patriots-Texans (CBS) -- 874,293
Falcons-Seahawks (Fox) -- 791,683
Ravens-Broncos (CBS) -- 757,262
49ers-Packers (Fox) -- 667,767
The Ravens-Broncos game, despite ranking third overall, had the largest peak audience of 1,011,977 viewers for the 7:15 to 7:30 p.m. portion of the overtime. Fox delayed the start of the 49ers-Packers game because of the overtime, but a small portion of the game still competed directly against the conclusion of Ravens-Broncos.
Unlike the Globes, none of the games could quite surpass the 50 percent mark in 18-to-49-year-old viewers. That's not a particularly welcome sign for the NFL. Dallas Cowboys games this season also were top-heavy with viewers 50 year and older.
Also on Sunday night, a new episode of PBS'
Downton Abbey
drew a respectable 178,989 total viewers opposite the Globes. The Season 2 debut of HBO's
Girls
didn't fare as well with 41,305 viewers but had a much higher percentage of 18-to-49-year-olds. Competing against herself,
Girls
star/creator Lena Dunham won two Globes Sunday night.
Saturday night's Miss America pageant on ABC, which aired opposite the 49ers-Packers game, averaged 172,105 viewers from 7:30 to 10 p.m.
Friday's prime-time Nielsens as usual were paced from start to finish in total viewers by CBS' regular lineup of
Undercover Boss, CSI: NY
and
Blue Bloods
.
CSI
also won among 18-to-49-year-olds, as did the first half-hour of
Undercover Boss
. But ABC's
Malibu Country
won from 7:30 to 8 p.m., with Fox's
Kitchen Nightmares
the runner-up. And Fox4's 9 p.m. local newscast controlled the 9 p.m. hour in this key demographic.
Here are Friday's four-way local news derby results:
CBS11 easily won in total viewers at 10 p.m. while Fox4 was tops with 25-to-54-year-olds, the main advertiser target audience for news programming.
Fox4 once again controlled the 6 a.m. competitions and likewise ran the table at 5 p.m.
CBS11 had the most total viewers at 6 p.m. while WFAA8 broke through for a first place finish in the 25-to-54 demographic.
unclebarky@verizon.net