Mavericks victory parade will start early -- on Late Show
06/15/11 10:47 AM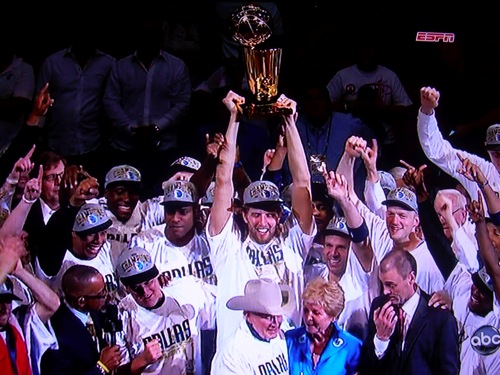 Celebrate good times -- the sequels are coming. Photo: Ed Bark
By ED BARK
The Dallas Mavericks will get an early liftoff for Thursday morning's parade with a Top 10 List presentation on Wednesday's
Late Show with David Letterman
.
CBS is touting it as the team's "first talk show appearance" after eliminating the Miami Viceroys and winning their inaugural NBA title Sunday night.
Coach Rick Carlisle, owner Mark Cuban, Finals MVP Dirk Nowitzki and seven other Mavericks players will participate via satellite from the downtown Dallas American Airlines Center. The network says that Thursday's
Late Show
also will include Jim Carrey promoting his new film,
Mr. Popper's Penguins
.
CBS hasn't announced the Top 10 List topic, but perhaps it could be "Top 10 Reasons Why the Mavs' Win is Dallas' All-Time Feel Good Sports Story." Some suggestions:
No. 8. Because Dale Hansen says it isn't.
No. 5. Nowitzki spelled backwards is "Ikztiwon."
No. 3. The entire Dallas team will have rings (and/or a lovely parting gift from Cuban) while all LeBron gets is a "Participant" t-shirt.
No. 1. Free passes for all North Texans to Cleveland's Rock 'n' Roll Hall of Fame
***
Thursday's scheduled 10 a.m. parade through downtown Dallas will be televised by Fox4, NBC5, WFAA8, CBS11 and Fox Sports Southwest. So that's the alternative for those who want to celebrate beating the Heat by beating the heat.