Local Nielsen ratings snapshot (Wed., Oct. 19) -- Fox News Channel/Fox top final debate rankings
10/20/16 10:05 AM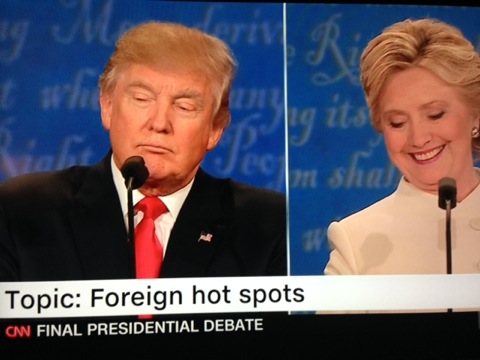 Debate 3: Tight-Lipped versus Smiley Face. Photo: Ed Bark
By ED BARK
@unclebarkycom on Twitter
Fox and Fox News Channel capitalized on "one of their own" moderating the final debate Wednesday night between Democratic nominee Hillary Clinton and Republican ticket-topper Donald Trump.
Chris Wallace very capably did the honors, pressing the candidates when necessary and not allowing them to make him a "potted plant," as he said at one point. Debate 3 was carried on 10 major networks, with NBC re-joining after
Sunday Night Football
intervened during Debate 2 and Telemundo also back on board after stiffing the second Trump-Clinton confrontation in favor of telenovelas.
Here are the D-FW audience numbers in total viewers and advertiser-prized 18-to-49-year-olds.
Total Viewers
Fox News Channel -- 276,302
Fox -- 261,760
ABC -- 239,946
CBS -- 189,049
NBC -- 167,235
CNN -- 145,422
Univision -- 116,338
MSNBC -- 79,982
PBS/Telemundo -- 43,627 each
Hand-held calculator technology says that's a grand total of 1,563,288 viewers. The first debate easily topped that with 1,955,926 viewers before Debate 2 dropped to 1,476,034 viewers. Sunday's Dallas Cowboys-Green Bay Packers game on Fox topped Debates 2 and 3 with 1,585,100 total viewers.
18-to-49-Year-Olds
Fox -- 102,627
ABC -- 99,420
CBS -- 83,385
NBC -- 80,178
Fox News Channel/Univision -- 64,142 each
CNN -- 51,314
MSNBC/Telemundo -- 22,450 each
PBS -- 12,828
That adds up to a combined 602,936 viewers. The first debate had 811,396, and the second, 529,173. Sunday's Cowboys-Packers game again topped both Debates 2 and 3 with 606,142 viewers in this younger demographic.
Wednesday's 7 p.m. debate lead-in programs were topped by Fox's
Lethal Weapon
, which had 319,928 total viewers and 121,870 in the 18-to-49 age range.
Here are Wednesday's local news derby results.
TEGNA8 drew the most total viewers at 10 p.m. while NBC5 ran first among 25-to-54-year-olds (main advertiser target audience for news programming).
Fox4 swept the 6 a.m. competitions and also had twin wins at 5 p.m. The 6 p.m. golds went to TEGNA8 in total viewers and NBC5 with 25-to-54-year-olds.
Email comments or questions to:
unclebarky@verizon.net