Another video that keeps on giving -- the night the streaker struck. Former WFAA8 reporter Bert Lozano still remembers all the details
04/05/10 11:21 AM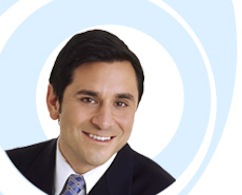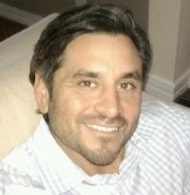 Bert Lozano in official WFAA8 photo and at present.
By ED BARK
In the annals of WFAA8 live shots gone comically awry, reporter Bert Lozano's close brush with a streaker -- out in the bush -- is in there punching with Valeri Williams' famed frozen-lipped report from near Amarillo on the frigid night of Nov. 24, 1992.
Williams, now an attorney, recalled that day in a
June 2008 interview with unclebarky.com
. Now it's Lozano's turn before the below video (newly posted on youtube) vividly speaks for itself.
He spent three years at WFAA8 before leaving the station in February, 2007 to take a position in the Dallas offices of Weber Shandwick, a global public relations firm where he still works. Of his many adventures in the field, none has stuck with him -- and to him -- more than a hot summer night in 2006, when Lozano and former WFAA8 photographer Timb Hamilton were covering a grass fire near Lake Lewisville in the Colony.

They set up for a live shot on the 10 p.m. news, with another ex-WFAA8 news staffer, Rebecca Rodriguez, anchoring back at the station's Dallas studios.

"From the corner of my eye, I saw a man, completely naked except for his white sneakers," Lozano recalled via email. "I can still see him there, standing by our news truck, almost like he was running in place. I knew exactly why he was there! I had seen this kind of thing before on youtube and other news blooper shows. The funny thing is that I remember thinking to myself, 'Jeez, what would I do if anything like that ever happened to me?' "

"My immediate thought was to walk up to the camera and put my hand over the lens to avoid the 'full Monty' moment. But before I could even turn to the camera, the guy was already sprinting between the camera and me. All I heard was an air horn as he ran past me and tripped on my microphone cord and disappeared into the darkness.

"At that moment, everything seemed to move in slow motion. I remember thinking to myself, 'I have got to explain or apologize or say something.' But all I could do was keep reporting my story. It seemed to me like I was talking very slowly and had that deer-caught-in-the-headlight look. And when I finally tossed to my (videotaped) reporter package, I told myself, 'Well, I guess I'm just not going to say anything about a naked man running past me.' "

Lozano says he initially felt "totally humiliated. I thought that I had really blown it on live television. It was the worst feeling. Then my news director called and actually congratulated me for doing such a good job of saying focused. I really didn't feel like that when I was going through it, but when I had a chance to look at it later in the evening, I was very relieved that I had not made a complete and total fool of myself."

A police report was filed, "but nothing ever came of it," Lozano says. "The guy was gone. I've always wanted the opportunity to chat with him to get the full story, but I guess some things will remain a mystery.

"Still, I almost want to thank him. Since that night, the clip has been run on Extra!, MSNBC, VH1 and various websites. After it happened I got a ton of emails. Viewers were asking if they really saw a naked man on TV or if their eyes had played a trick on them because I never said anything about it in my live shot and the anchors never mentioned it during the newscast. Hilarious!"

People still ask him "whether I got a good look at the guy," Lozano says. "And I always say, 'Yes, and there was more than just dry brush that needed trimming that night.' "

Here's the run-by shooting, captured live on WFAA8 and still tooting its own horn.