TEGNA8's lengthy report on an alleged three-way gang rape by members of UNT's basketball team raises questions about both a university coverup and the station's on-air display of a document that should have been kept very private
11/16/18 02:13 PM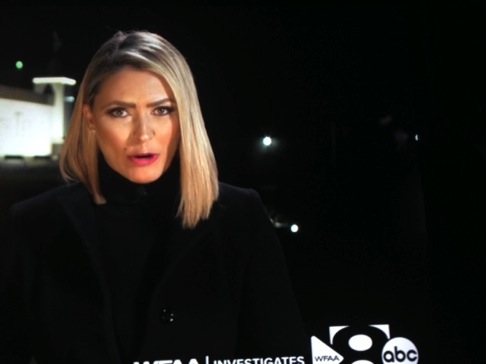 TEGNA8 reporter Charlotte Huffman at the outset of her two-part investigation on the station's Thursday, Nov. 15th 10 p.m. newscast.
Screenshot by Ed Bark
By ED BARK
@unclebarkycom on Twitter
TEGNA8 co-anchor John McCaa, touting the top stories on Thursday's 10 p.m. newscast, began with reporter Charlotte Huffman's two-part look into "allegations of gang rape by high profile athletes."
The TEGNA8 investigator was on camera several minutes later to report at length on an 18-year-old former University of North Texas freshman's charges that two members of the school's basketball team and the team's manager had gang-raped her in an off-campus apartment and later asked her via cell phone if she wanted to be part of an escort service where she'd at least be paid for having sex. McCaa told viewers it was all part of an eight-month investigation that also strongly implies UNT has engaged in a coverup dating back more than a year.
Huffman never identified the alleged sexual assault victim, who was silhouetted during an interview, as was her dorm wing's Resident Assistant and best friend at the time. But relatively early in the elongated story, which was bridged by a commercial break, TEGNA8 showed a Nov. 12, 2018 document that had questions from Huffman (and producer Mark Smith) accompanied by answers from UNT officials.
Near the bottom of the document, a woman's name could be seen (we're leaving it blank) at the start of this question: "_________, a UNT student, told WFAA she was sexually assaulted by the three suspects . . ." Part of the rest of the question was obscured by an on-air "WFAA8" logo. The final words are "discussed or pursued?"
The response, from UNT police chief Ed Reynolds, is that "no such allegations were ever made to UNT police."
But more to the point, had TEGNA8 basically violated the woman and her privacy by exposing her name on-screen while at the same time keeping her identity secret throughout Huffman's interview? That would be a huge journalistic transgression during an otherwise seemingly solid story in which Huffman had the courage to confront, one by one, all three of the alleged rapists on-camera. None of them has been punished in any way. And not surprisingly, they wouldn't talk to her.
A vigilant viewer, who also happens to be an experienced reporter, phoned me while Thursday's 10 p.m. newscast was still in progress. The viewer also provided a direct Twitter exchange with a member of TEGNA8's social media team.
"FYI," the viewer said, "please tell your investigative reporter that the letter that you show from UNT in the story reveals the name of the accuser . . . It should be blocked out."
"Oh no!" the TEGNA8 representative responded. "I'll tell her. That definitely needs to be blocked out."
The viewer noted that the story already had aired.
"Yeah but for any version on the web, needs to be re-edited," the TEGNA8 representative replied.
The late night replay of TEGNA8's 10 p.m. newscast omitted the aforementioned document entirely while the station's web version blurred the alleged victim's name. But as of mid-Friday afternoon, I could still see the entire original story, which includes the woman's name, via a national app that won't be further identified here.
On Friday at 7:52 a.m., I emailed TEGNA8 executive news director Carolyn Mungo, who has ignored all inquiries from unclebarky.com for well over a year. This time she quickly replied, within six minutes, when questioned about whether her station had seriously erred in using the woman's name.
"The woman we interviewed for last night's piece is not the name seen in the document," she said. "If you feel you need to write something up please give me your number and I will call you later this morning."
I gave her my number, waited more than two hours and then tried again via email. Shortly after, Mungo again replied.
"The person we interviewed and promised anonymity to in our report, was not listed in the document you reference," she said. "Out of an abundance of caution and clarity, we removed all names in the documents for our late news rerun and on our digital platforms."
Mungo also said emphatically, "As we mentioned in our report, the person we interviewed is a former freshman at UNT. She does not currently attend the university. Her name does not appear in any documents in our report."
I phoned Mungo in an effort to further clarify. Were we talking about the same name and document? A detailed message was left, but she didn't return the call. I also emailed her a screen shot of the document and asked, "Are you saying the woman named near the bottom of this document, as part of your questions to UNT officials, is NOT the woman who was silhouetted in the story? If not, then who is this person? And how could she have possibly shown up in the document if she's not the subject of your story?"
Mungo chose to reply confidentially this time. But she basically reiterated her statement that the woman named in the document as a victim of a three-way gang rape and the woman interviewed in silhouette (who is making the same charge) are not the same person.
Before writing this, I tried one last time, telling Mungo that "what you did then is publicly identify another alleged rape victim on camera."
There has been no response this time.
A woman with the same name that appeared in the document has a Facebook page that says she's still a UNT student. It's the only person of that name I could find. The page appears to be up to date.
This is a complicated story that's not easy to communicate in print. I'll leave it up to readers to determine whether TEGNA8's responses, via the station's executive news director, are completely truthful or just don't add up.
In the end, the problem doesn't appear to be with Huffman's overall reporting. She obviously invested considerable effort into this story. But the on-air document originally used by TEGNA8 at the very least raises serious questions that needed to be asked. And perhaps are yet to be fully answered.
Email comments or questions to:
unclebarky@verizon.net