CW33 forecasts meteorologist Rebecca Miller out of its picture
10/26/12 01:52 PM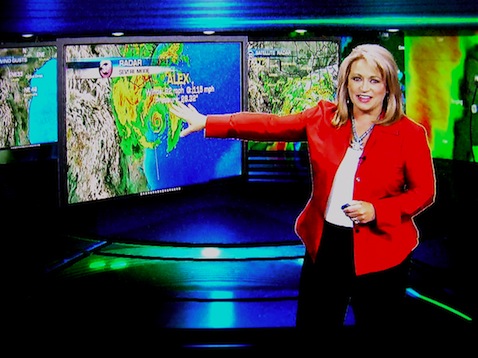 CW33 meteorologist Rebecca Miller not part of station's future plans.
Photo: Ed Bark
By ED BARK
@unclebarkycom
It's official -- both the start date and title of CW33's revamped 9 p.m. newscast and meteorologist Rebecca Miller's disinvite.
Several sources at the Dallas-based,Tribune-owned station say that Miller was informed Thursday that the new comedy-laced
Nightcap News
program, set for a Thursday, Nov. 1st debut, will not be including her.
The station will honor her existing contract through the end of this year, but Miller reportedly is free to leave if she finds another job. Miller and holdover anchor Amanda Salinas, whose contract likewise expires in January, have been co-hosting a lame duck 9 p.m. newscast until
Nightcap News
is unveiled. Miller's role in that program, if any, is likely to be behind the scenes.
As previously reported, CW33
terminated numerous staffers
early this month as part of a transition to a prime-time show modeled after its freewheeling, early morning
Eye Opener
program. Airing from 5 to 8 a.m. weekdays,
Eye Opener
is produced entirely out of CW33's Dallas studios and syndicated to several other Tribune-owned stations. The station's new list of job titles for
Nightcap News
includes "Host/Comedic Writer"
among others.
The format for
Nightcap News
is still being formulated, with an overall "push the envelope" mantra in place while station management continues to debate how far and hard to push.
Miller, a former mainstay of NBC5's early morning news program, was dropped by that station in March 2008 and had to spend six months off the air as part of a standard "non-compete" contract. She was hired in January 2009 by former CW33 news director David Duitch, who left earlier this year to become editor of
The Dallas Morning News
website.
CW33 has tried numerous gambits at 9 p.m. in an effort to both differentiate itself and generate higher appeal among its network's 18-to-34-year-old target audience. Nothing has really worked and ratings have continued to decline.
Thursday night's 9 p.m. CW33 newscast, which also marked the start of the four-week November "sweeps" ratings period, drew 27,537 viewers in a D-FW market of almost 6.9 million viewers. Of those viewers, 11,731 were 18-to-34-year-olds.
Although small, CW33's haul of 18-to-34-year-olds exceeded that of CBS11's 10 p.m. newscast, which drew just 8,379 viewers in this age range, according to data from Nielsen Media Research.
The most-watched hour of Thursday's
Eye Opener
, its 7 to 8 a.m. portion, had 5,027 viewers within the 18-to-34 demographic.
unclebarky@verizon.net