Anchor Tom Crespo dealt out at "The 33"
02/04/09 03:33 PM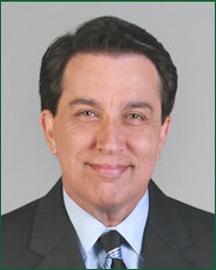 By ED BARK
Another shoe has dropped at "The 33" (KDAF-TV), where veteran anchor Tom Crespo was let go Wednesday.
News director David Duitch could not immediately be reached for comment and Crespo declined to be interviewed Wednesday. But a surefire sign of Crespo's departure is his removal from the station's
Web site
. Like several others in recent months, his picture and bio have vanished.
Crespo had teamed with Terri Chappell as the principal anchor team for The 33's 9 p.m. weeknight newscasts. But
Chappell was dropped
in early December by Duitch, who became news director last July.
Crespo joined KDAF in 1998 from Fox affiliate WAWS-TV in Jacksonville, Fla.
Reporter Michael Rey, sports anchor Bob Irzyk, weekend weatherman Fred Barnhill and entertainment reporter Victoria Snee also have left by choice or otherwise during Duitch's tenure. And meteorologist Bob Goosmann, previously the featured weeknight forecaster, is now on weekends, with former NBC5 meteorologist Rebecca Miller replacing him.
As previously reported, Duitch also has added Roni Proter, Aaron Smith and Pelpina Trip to the staff as either full- or part-time reporters. Reliable sources say he also will be announcing the hire of
Amanda Salinas
, former host of WFAA8's now defunct
La Vida
, as an anchor-reporter.
The only news anchors currently left at "The 33," which also does weekend newscasts, are Jim Grimes and Dawn Tongish.