This just in: a night in the lives of D-FW's late night newscasts (Mon., Feb. 13)
02/14/12 02:36 PM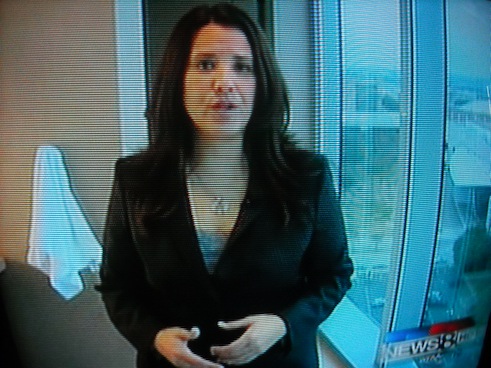 WFAA8's Monika Diaz in one of the Omni Hotel's rooms with a view.
Photos: Ed Bark
The quality of its enterprise reporting should be the standard by which any local TV news operation is measured.
So with that in mind, here goes another limited edition ratings "sweeps" look at what you're getting from D-FW's late night newscasts. Under the microscope are the featured 9 p.m. editions on Fox4 and the 10 p.m. offerings on NBC5, WFAA8 and CBS11. Front and center is WFAA8, which embarrassed itself with a peep show expose and excelled by going more than a few extra miles in connection with an already heavily-covered child abduction situation.
First the good. WFAA8 reporter
Marcus Moore
, a promising newcomer to the station, reported from snowy New Mexico on the apprehension of an allegedly mentally disturbed mother who had fled North Texas with her 11-year-old daughter.
Their whereabouts had been a guessing game until New Mexico State police found Kimberly Smith and her daughter, Jessica, along a remote stretch of highway. Still in Kimberly's SUV, they needed food, water and rescue from the elements. And Moore, the only D-FW television reporter sent to the scene, brought the story home by interviewing the officer who found them.
"Right when I got to her, she almost collapsed," trooper Mark Sandoval said of Kimberly. "I had to hold her up."
No other station came close to WFAA8 on this one. But they'll no doubt all swarm the scene locally when young Jessica returns home.
Unfortunately, WFAA8 also soiled itself Monday night with reporter
Monika Diaz's
long, overblown look at a handful of downtown Omni hotel suites whose windows supposedly provide hazy long distance peeps at unsuspecting guests in various states of undress.
"It's a story you will only see on News 8," Diaz trumpeted. She apparently didn't see the irony in that.
One of the featured whistleblowers was Church Lady-ish Pam Moore, who said that the nearby Dallas Convention Center and its big picture windows afforded her the chance to "see restroom activity that was very obvious down to the anatomy."
"These poor people don't know they're on exhibition," she added, although none of the poor people were interviewed for Monday's story.
Ir was all reminiscent of the station's old "Chapel 8" days and its refusal to carry ABC's first two seasons of
NYPD Blue
because of the series' occasional adult scenes and language. WFAA8, the only top 10 TV market to banish
NYPD Blue
, eventually relented after the show was named TV's best drama series at the Emmy Awards.
For its Omni expose, WFAA8 trained its cameras on some of the hotel's corner suites and came away with pixillated images of a few scantily clad patrons. At least that's what viewers were told. Diaz also noted that onlookers could see the hotel staff not only making beds but holding meetings.
Hotel officials declined to comment on-camera, but in a statement said it "should be evident that a guest should use their window shades" if he or she didn't want to be seen. Diaz encouraged viewers to weigh in on WFAA8's Facebook page. But the station was abundantly less than truthful in selecting which comments to publicize later on Monday's 10 p.m. newscast and also during Tuesday's edition of the early morning
Daybreak
.
Gloria Campos, co-anchor of the 10 p.m. news, noted in passing that "some think it's not an issue," but didn't elaborate.

Actually, an overwhelming majority fell into two camps, judging from the 134 comments posted by mid-afternoon Tuesday on WFAA8's Facebook page. They either said that hotel guests should use common sense when standing in front of a window. Or they lashed WFAA8 for running the story in the first place. Since you're not likely to see any of these on a WFAA8 newscast, here are just four of the brickbats:

Naima Sumner: "I can't believe this is the top 'exclusive' story of the day considering what is happening in the world."

David Hodges: "I have lived here all of my life and watched Channel 8 all of my life but it is time to change the channel if this is what you call news."

Bradley Huffman: "What bothers me are the creeps at WFAA for filming guests while they are changing. This is supposed to be a professional news organization, not TMZ!!"

Richard Miller: "Did you disable the comments on the story? It looks like it. If so, besides being idiotic peeping toms, you are also cowards!"

Sports anchor Dale Hansen again put matters in perspective, as only he can.

Springboarding off weatherman Pete Delkus' foggy forecast, Hansen said, "It was so thick out there I couldn't hardly see into the bathrooms at the Omni." He promised to drive "a lot slower" past the hotel during his trips to and from his home in Waxahachie.

It also should be noted that WFAA8's Monday 10 p.m. newscast topped the Nielsen ratings in both total viewers and the key target audience of 25-to-54-year-olds. It was the station's first total viewers win in eight tries during the ongoing 20-weeknight February "sweeps." So whatever criticism WFAA8 receives is basically immaterial.

AND IN OTHER NEWS

***Fox4 investigator Becky Oliver had an interesting story on lawsuits aimed at Europe's largest bank, Santander Consumer USA, which in the last decade or so has been servicing car loans in the U.S. and has a Dallas branch. The company, which denied all accusations in printed statements, is accused of illegitimate harassment and the unwarranted ruining of consumers' credit. Hundreds of complaints have been filed against Samander, which also is being investigated by the state attorney general's office, Oliver told viewers.

***Fox4 also has a relatively new newscast feature called "Your Turn." It's an excuse for 10 p.m. anchor Clarice Tinsley to get a little more face time reading Facebook comments. The station already has a longstanding "Viewers" Voice" segment that closes most 9 p.m. newscasts.

On Monday, Tinsley read a Facebook submission from a dude named Bill, who said his favorite Valentine's Day song is Roy Clark's "Thank God and Greyhound She's Gone." Tinsley demurred, telling viewers that her fave is "Kiss An Angel Good Morning" by Charlie Pride. "And that's what I'm going to do tomorrow to my husband," she said, prompting co-anchor Heather Hays to add, "That 's so sweet, Clarice."

Tinsley's own Facebook dust-up, which she hasn't commented on, was previously documented in these spaces.

***NBC5 easily had the night's most extensive coverage of singer Whitney Houston's death, with co-anchor Meredith Land narrating a video package. It included two TMZ photos of Houston's "disheveled hotel room" at the Beverly Hilton. NBC5 "has not been able to confirm the photos' authenticity," said Land. But the station showed them anyway.

***The station's smiley-faced closing "kicker" touted a study that said people can lose weight more effectively by eating sweets for breakfast. Even a piece of cake supposedly is OK because it reduces such cravings later in the day.

"Worst study ever," said NBC5 sports anchor Matt Barrie, who deserved a standing ovation for that declaration.

Co-anchor Brian Curtis instead kept on grinning while retorting, "I don't know. Make mine Red Velvet."

***CBS11 had an intriguing "only on CBS11" story by reporter Jason Allen, who reported from Lewisville on an apparent prank by an X Box user that prompted a SWAT team to respond to an alleged shooting with the shooter still at large.

Instead the cops surrounded a home in which a teenager was merely playing the video game Call of Duty: Black Ops. The kid recounted his story to Allen, but didn't want his face shown on camera. Police are still looking for the prankster.

***CBS11 also aired its heavily promoted story on the wealth of reality series originating from Dallas. But it basically amounted to a commercial for the Style Network's Big Rich Texas, which starts its second season Sunday night.

Reporter Tracy Kornet said her station was "granted exclusive access to go behind the scenes" of Big Rich Texas. A scene was being shot at Skintastic, whose resident doctor also got a nice plug.

The story never got into how Big Rich Texas, Most Eligible Dallas and other such concoctions invariably leave the country at large with the impression that the city and state are populated by vacuous, excess-oriented posers. Kornet instead relied on the wisdom of blogger Cynthia Smoot, who said, "It's great exposure for Dallas, whether you love it or you love to hate it."

Co-anchor Doug Dunbar later said it might be fun to give reality show addicts a look at the real-goings on at CBS11.

"Wait until you see that," he said.

Crickets.