No more Brady bunch at WFAA8: anchor decides to chart new course
02/05/09 03:36 PM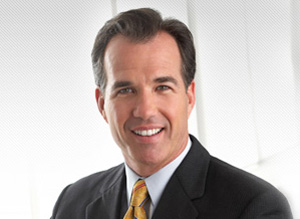 By ED BARK
WFAA8 anchor/reporter Jeff Brady has decided to leave the station and fly his own banner as the head of Brady Media Group.
His last day will be March 6th.
"It wasn't a divorce. It was an amicable split," WFAA8 news director Michael Valentine said in a telephone interview Thursday after Brady informed him of his decision to leave. "I'm very proud of the work Jeff did here, and I wish nothing but the best for him."
Brady, who joined WFAA8 as a weekend anchor in July 2000, has been filling in on the early morning
Daybreak
program after Brad Hawkins left the station in December to take a PR job with Dallas-based Southwest Airlines. He otherwise had been anchoring WFAA8's 5 p.m. weekday newscasts.
"I'm 45, and this has been quite frankly the most difficult adult decision I've ever made," Brady said by telephone. "It is 95 percent about Jeff Brady and me casting a vision of where I want to be as a professional, as a dad and as a husband 20 years from now.
"I just kind of drew the lines, connected the dots and said that if I'm going to get there, I've got to make some radical changes now. It sounds hokey, but that's what it's all about. It is bar none the most radical thing I've ever done, because I love this profession and I love the people here. I think people from the outside are going to say, 'Brady, you're nuts.' It's scary as hell, and it's intimidating."
Brady, who has three children with his wife, Dr. Wesley Brady, said he "did some serious navel-gazing last year" after doing a number of stories about "technology and entrepreneurial things, and people who are planting the flag and trying to make a go of it."
His new company will advise clients on developing new digital media content, he said. "I realize I don't need a hundred clients. I just need a handful who need help. I see me as coming in and kind of providing a coaching service."
John McCaa and Gloria Campos, who co-anchor WFAA8's weeknight 6 and 10 p.m. newscasts, had been doing the 5 p.m. program as well while Brady pinch-hits on
Daybreak
before new hire
Chris Flanagan
arrives from a Des Moines, Iowa TV station later this month.
"I think we'll look long and hard at the 5 o'clock and determine if we need to add an anchor on that show," Valentine said. "John and Gloria have been great in their willingness to do it, but that doesn't necessarily mean that's the way we're going to go."
WFAA8's 5 p.m. ratings have been sagging in recent weeks, in part because of seriously decaying ratings for the 4 p.m.
Oprah Winfrey Show
. Brady's departure comes just several months after his former 5 p.m. newscast co-anchor,
Macie Jepson
, was laid off by the station.
Media consulting is getting to be a crowded field of late, with former Fox4 reporter Jeff Crilley and former NBC5 reporter Susan Risdon also forming their own companies in the past year and a half.
"I certainly can't tell you I've got everything figured out," Brady said. "But I'm really excited about what's ahead and what opportunities are out there."