This just in: A night in the lives of D-FW's late night newscasts (Thurs., April 23)
04/24/09 12:41 PM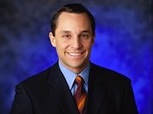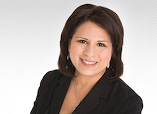 Reporters Byron Harris, Bennett Cunningham and Rebecca Lopez
By ED BARK
Back by popular demand -- or maybe not -- it's the ratings "sweeps" series that every D-FW anchor, reporter and news director loves, loathes or yawns at.
For 20 weeknights we'll again be chronicling the true-life adventures on local late night newscasts. Under the microscope are the 10 p.m. editions on NBC5, WFAA8 and CBS11, plus the featured 9 p.m. presentation on Fox4.
The May "sweeps" officially started Thursday, with WFAA8 and CBS11 both showcasing lengthy investigative pieces while NBC led its newscast with a swine flu scare story.
Also, WFAA8 touted a
Rebecca Lopez
"exclusive" that ended up failing that test. And Fox4, well, there's not much to say about its comparatively uneventful opening night.
CBS11's
Bennett Cunningham
specializes in stories about public officials squandering taxpayer dollars. On Thursday night he laid into the presidents of the University of Texas at Dallas and the University of North Texas for allegedly lavishing creature comforts on themselves while students struggle with higher tuition costs and what the reporter termed a "horrendous job market."
UT-Dallas head David E. Daniel requested and received nearly $4,000 in memberships at the Park City Club and the Crescent Club and Spa, Cunningham told viewers. UNT's Dr. Gretchen Bataille has a $10,000 a year car allowance (although she drives a donated Lexus) and gets $50,000 a year for housekeeping and gardening expenses.
To his credit, Cunningham interviewed both officials on camera, during which they defended their perks. Not so good was his disdain-dripping shot at UT Board of Regents chairman James Huffines, whose "spokesman said his schedule was too busy," Cunningham said. The sneering tone in his voice only serves to undermine stories such as these. If you've got the goods, just lay 'em out there and let viewers make their own judgments.
Investigations tied to seemingly indulgent spending of taxpayer money of course resonate all the more in tough economic times. And Cunningham for the most part does a solid job of documenting his findings and then giving officials a chance to talk about them. Still, high-level public officials shouldn't be expected to hitchhike to work carrying their lunches in kerchiefs attached to a stick. You get what you pay for in the end. And some perks might look worse on paper than they are in real life.
On WFAA8, longtime investigator
Byron Harris
told viewers of "diploma mills" that grant improper licenses to unqualified aircraft mechanics in return for cash under the table.
His piece focused on a Chalk's Ocean Airways plane crash and the son of one of its victims. Twenty passengers were killed four years ago after one of the small aircraft's wings came off. One of the mechanics who worked on the plane got his certification from the fraudulent St. George Aviation Testing Center near Orlando, Fla. Thirty-three graduates of St. George, two of whose instructors were jailed, might still be working in Texas due to lax FAA oversight, Harris said.
A San Antonio testing center lately is under investigation. All told more than 2,000 questionable mechanics nationwide "may be working on the planes you fly," Harris said.
Worst case scenarios are the mother's milk of many investigative reporters, and Harris may have been guilty of at least a little of that. But it only takes one unqualified mechanic to bring down an entire plane. And that's a deadly serious fact.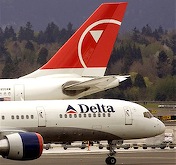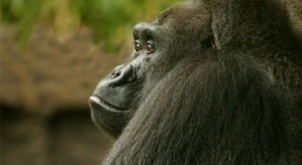 Love match for Delta and the Dallas Zoo's Timbo the gorilla
DELTA DAWNING
-- WFAA8 led its 10 p.m. newscast with Lopez's supposedly "exclusive" report on Delta airlines resuming limited flights out of Love Field for the first time since 2003.
Lopez quoted unnamed sources, but
The Fort Worth Star-Telegram
posted the Delta story earlier Thursday on its web site, complete with quotes from Love Field and Delta officials. Worse yet for WFAA8, arch rival CBS11 credited the
Star-Telegram
with the report during a brief in-studio reader by co-anchor
Karen Borta
.
"We did not know the
Star-T
had it," WFAA8 news director
Michael Valentine
said in a telephone interview Friday. "We thought we were the only ones with it, and we were wrong. The
Star-T
had it, and hats off to them. That's our screw-up. At the end of the day, it's my responsibility to make sure these things don't happen."
WHEN PIGS FLY
-- NBC5 anchor
Mike Snyder
braced North Texas for the worst -- as only he can -- with a top-of-the-newscast tease.
"North Texas hospitals are on the alert for the
sw-i-i-ine
flu tonight," he told viewers.
Reporter
Ellen Goldberg
, her hair blowing in her face during an in-the-dark live shot, said that five Californians and two San Antonians have been diagnosed with swine flu. One of them, a student in San Diego, recently visited his North Texas home.
"The CDC (Centers for Disease Control) says there is no need to panic," Goldberg said helpfully before amping things up again by noting that area hospitals are on "high alert."
Dr. Edward Goodman of Texas Health Services, who seems like a reasonable man, said, "Our hope is that this will blow over."
WFAA8 also touched on the swine flu possibilities, but in a comparatively dismissive brief read by co-anchor
Shelly Slater
, subbing for
Gloria Campos
. Fox4 and CBS11 didn't bother with it.
ALSO OF NOTE
-- NBC5's
Meredith Land
had a nice little heartwarmer on Timbo the gorilla, a 47-year-old Dallas Zoo resident who recently underwent successful cataract surgery.
"She was a good patient," said the gorilla's doctor.
***
The Peacock's
Brian Curtis
also piqued interest with a piece on those Redbox kiosks offering movies for just $1 a night. An extra benefit is free movies for those who punch in a
Redbox code
. And the company doesn't care if you "borrow" a friend's or passerby's number, Curtis said, prompting one customer to chirp, "It's good to know that I can cheat then." Yeah, that's the spirit.
***
WFAA8 reporter
Jason Whitely
had an exclusive -- and this time it really was -- on a woman employee of Dallas Fire Rescue who claims she was vilely harrassed on the job.
"We caution you. Some of the details are very graphic," anchor
John McCaa
warned before the employee, in silhouette, said, "It was semen."
Specifically, the woman's workdesk keyboard, a photo of her daughter and her coffee cup were smeared with semen, Whitely reported. Lawsuits are in progress, and rightly so.
***
Fox4 investigator
Becky Oliver
had a followup to last year's very worthy story on T and T Home Health Agency, which she exposed for fraudulently billing Medicare for millions of dollars. The state is now yanking T and T's operating license.
DRILL BABY, DRILL
-- WFAA8 was without sports anchor
Dale Hansen
Thursday night. But weatherman
Pete Delkus
, who forms the other half of their occasional comedy act, wasn't going to let that stop his standup.
Co-anchor Slater jump-started the festivities after medical reporter
Janet St. James
' story on a new breakthrough in dental office numbing -- and reverse-numbing.
"My dad is a retired dentist, you know," Slater volunteered. "People get in the chair and they start cringing. But they're good, nice people. Give the dentists a break!"
This prompted Pete's childhood tale of frontier dentistry. In the small town where he grew up, a retired prison dentist was the Delkus family's tooth doctor of choice. And he never used Novocaine, according to Delkus.
"I sit down in a dentist's chair, oh, I freak out when I think of that," he said while McCaa covered his eyes with a piece of news copy.
Someone later made a drilling sound off-camera while Delkus competed his weathercast. Sports anchor
Joe Trahan
then made it worse by saying, "The Mavs had the Spurs in jail all night (during Game 3 of their playoff series). And it was like pulling teeth for the Spurs."
Nineteen nights to go. Until the next time, here's Timbo's story: