CBS11 anchor Karen Borta throws a few jabs, makes it through The Talk
06/28/11 02:50 PM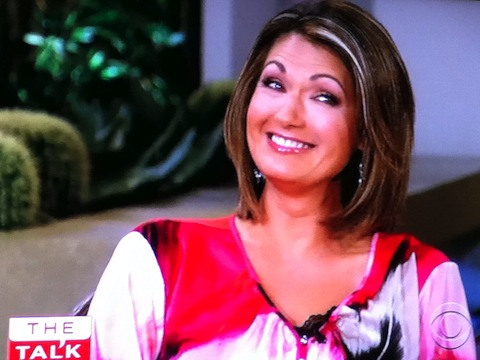 CBS11 anchor Karen Borta reacts after getting off a good one -- on disgraced former congressman Anthony Weiner -- during Tuesday's edition of The Talk, where she was a guest host. Photo: Ed Bark
By ED BARK
CBS11 anchor Karen Borta survived a ribald edition of her network's
The Talk
Tuesday, where the topics ranged from disgraced former Democratic congressman
Anthony Weiner
to "commando or not?"
A girl can get in trouble when those chips are in play. Particularly if she's otherwise a reasonably strait-laced news anchor in the country's 5th largest TV market -- a k a Dallas-Fort Worth.
Guest host Borta managed to get in sync, though, particularly when another Weiner roast got rolling during the gab among regular hosts Leah Remini, Holly Robinson Peete, Sharon Osbourne and Sara Gilbert. Tongues loosened after viewers were shown two pictures of the "sexting" Weiner and his wife strolling in downtown Manhattan. One shot, from the rear, showed him holding her purse.
"His balls are in there," cracked Remini.
"And just the body language there," Borta added. "If he had a tail it would be tucked between his legs."
This prompted "All right, Borta!" and "You go, Borta!" from some of the hosts while the audience laughed and clapped in approval. Borta had arrived, even if her somewhat bloated looking red, white and black dress seemed like the equivalent of an ill-considered
Seinfeld
-ian
"puffy shirt.
" Not a particularly good look for her. Then again, I'm not
Mr. Blackwell
.
Borta earlier stepped into the fray during a disapproving discussion of comedian and
30 Rock
co-star Tracy Morgan's second foot-in-mouth standup appearance. He earlier apologized for incendiary jokes about gays. But Morgan followed that up by using "retarded" and "chimp" in a subsequent routine. That set the entire
Talk
panel against him, with Borta the last to lash him.
"You can be an equal opportunity offender," she said. "But I agree you have to be funny. You have to know how to make fun of yourself as well."
But some of Morgan's jokes "were just plain mean," Borta added. "There's just nothing funny about it. And I have to wonder, 'Is there anything he can do at this point to redeem himself?' Because even another apology -- does it just become white noise?"
The first half of the one-hour
Talk
, which airs at 1 p.m. weekdays in D-FW, is devoted to taking target practice. Celebrity guests then arrive to round out the show. On Tuesday, Alfre Woodard and Mekhi Phifer respectively promoted TNT's ongoing
Memphis Beat
and Starz's upcoming
Torchwood: Miracle Day
. So the real fun is in the slice 'n' dice first half, where Borta also hung in there during the wearing panties vs. going commando discourse.
"I always heard that anchors are like naked from here (waist) down. Is that true?" Peete asked her.
"See, now you're taking all the mystery out of everything," Borta replied. What a kidder.
But seriously, most anchors now are required to get up and out from their desks during newscasts, she said. Some never sit down at all anymore.
Peete later persisted after some pretty gamey talk, led by Osbourne, on the stuff that can emerge from the feminine mystiques if you're not wearing panties. "Karen, commando or not?" she demanded.
"Let's just say I'm a big believer in
Spanx
" undergarments, Borta said to applause from Osbourne. The discussion then deteriorated again, with Remini noting with disgust that some brands of Spanx "have an opening." Borta wisely laid out before a commercial break came to the rescue.
The chats with Woodard and Phifer were tame in comparison. Borta's last contribution was a question to Phifer about his family's poker games.
Viewers of Tuesday's CBS11 newscasts no doubt will be getting highlights of Borta's
Talk
appearance. As a reasonably manly man, I had barely seen the show until she showed up on it as one of five rotating local CBS station anchors sitting in this week for the vacationing Julie Chen.
It turns out that this is a much more sharply opinionated and sometimes amusing show than I had thought. Borta doesn't have a serrated tongue in league with Remini or Osbourne. But she hung in and pretty much held her own while also classing the place up. Now all she has to fear is her playful CBS11 co-anchor, Doug Dunbar. To whom she might retort if necessary, "Boxers or briefs?"