Doocy's Doozy: How-weird is that? (updated)
08/05/08 11:53 PM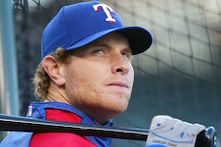 Fox4 sports anchor Mike Doocy, Josh Hamilton and Josh Howard
By ED BARK
Featured sports anchor Mike Doocy is one of Fox4's more prolific,
dedicated bloggers
.
Yeah, compared to whom?
Well,
Good Day
co-anchor Tim Ryan hasn't touched his personal myfoxdfw.com blog since Oct. 23, 2007. That's a long dry spell.
Anyway, frequent bloggers are gonna make a few errors along the way. And Doocy, newly returned from Cowboys training camp in Oxnard, may have been suffering from brain lag when he posted this on-site observation on Aug. 5, 8:55 p.m. from the Rangers-Yankees game.
"Coming off the Byrd walk-off Monday night, there's another big crowd here for the Yankee game tonight," he wrote. "Some people in the house are even Ranger fans. A Josh Howard homer has set the pace for a 5-1 lead midway through this game."
Hmm, the Mavericks' troubled forward and Rangers star slugger Josh Hamilton, who hit the home run, both have admitted drug use on the table and some tattoos, too. But otherwise they're not too easily confused.
Perhaps Doocy had Howard's recent drag racing bust on his mind. Or maybe he was wondering whether Howard has had a "hit" lately as part of his off-season training regimen.
Get some rest, Newy. I mean, Mike.
Postscript:
Doocy, presumably bright-eyed by Wednesday morning, rejoined in an email, "I had just eaten a large bag of ballpark kettle corn. Was a little light-headed, I guess."
There might be a kernel of truth to that. Meanwhile, he's since corrected it to Hamilton.