Incoming reporter and Dallas native Calvert Collins due to start at Fox4 on June 18
06/08/12 09:21 AM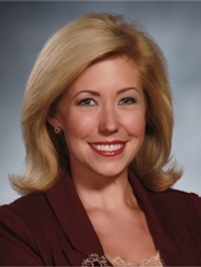 Calvert Collins/KLAS photoBy ED BARK
@unclebarkycom
Dallas-based Fox4 will have a new nightside reporter in Calvert Collins, a Dallas native who's arriving from CBS station KLAS-TV in Las Vegas after a four-and-a-half-year stay.
The 2001 Highland Park High School grade, who also has a journalism degree from the University of Missouri, is scheduled to join Fox4 on June 18th.
News director Robin Whitmeyer, who announced the hiring, says in a publicity release that Collins' "tenacity, insightful storytelling and ability to produce a quality news report will be great assets to our station."
Collins describes herself as a "seventh-generation Texan . . . who rarely missed a Fox4 9 o'clock newscast growing up. I am thrilled to begin the next chapter of my life in my hometown."
During an earlier stint at Omaha's KPTM-TV,
Collins made some news
by posing with a Democratic congressional candidate on her Facebook page and urging friends to vote for him. The Fox station then dropped her in June 2007. KLAS hired Collins in November of that year.
Collins acknowledged, in a story by msnbc.com, that her father had made a $500 donation in her name to candidate Jim Esch, who lost the election. She also said that her father had donated $2,000 in her name to Texas Republican congresswoman Kay Granger in 2004. At the time she was a broadcast journalism student at the University of Missouri.
Collins told msnbc.com she removed the Facebook picture with Esch immediately after her KPTM boss heard about it, and said that establishing a rapport with candidates was part of her job as a reporter.
"In a way, I'm glad this happened to me at age 23, and not 33," she told msnbc.com. "And I will learn from it."
Collins was part of an msnbc.com investigation that identified 143 journalists who had made financial contributions to political candidates. Two prominent MSNC personalities, Joe Scarborough and Keith Olbermann, received suspensions in 2010 for their contributions to candidates.
Here's a brief video montage -- compiled by Collins -- of her more recent work for KLAS in Vegas.