Local Nielsen ratings snapshot (Fri.-Sun., Aug. 27-29) -- Emmys hold off pre-season football; Cowboys crunch Rangers
08/30/10 12:06 PM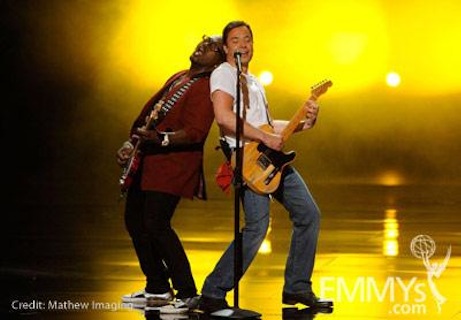 By ED BARK
NBC's Emmy Awards telecast survived Sunday night against what the Peacock will be banking on this fall -- a Sunday night pro football game.
It was just the pre-season, though, which is why the Emmys were moved up to late August. The three-hour telecast peaked early, sagged later and averaged an overall 339,315 D-FW viewers to outscore Fox's competing NFL exhibition game between the Steelers and Broncos (271,452 viewers).
The Emmy telecast had its biggest audience -- 407,178 viewers -- between 7:30 and 7:45 p.m. In the final 15 minutes, when the big awards for best drama and comedy series were announced, the Emmys were down to 318,956 viewers.
Fox's peak audience for Broncos-Steelers came between 8:15 and 8:30 p.m., when 339,315 watched. Sunday night's two biggest attractions tied among advertiser-coveted 18-to-49-year-olds, averaging 146,772 viewers in this age range. But football handily won the 9 to 10 p.m. hour in this key demographic, with 169,603 viewers to the Emmys' 127,202.
On Saturday night, the Dallas Cowboys' near-catatonic 23-7 loss to the Houston Texans nonetheless rolled up another big number opposite the first-place Texas Rangers' likewise lifeless 5-0 home loss to second place Oakland.
The Cowboys averaged 644,698 total viewers while the Rangers managed 128,940 on Fox Sports Southwest, one of their lowest post-All Star game totals.
Sunday afternoon's Rangers game, another loss on FSS, drew 169,658 viewers. Friday night's Rangers win against Oakland likewise had 169,658 viewers on TXA 21. That was just enough to beat the competing Saints-Chargers pre-season game on CBS11 (149,299 viewers).
In Friday's local news derby results, WFAA8 won at 10 p.m. in total viewers but Fox4 edged CBS11 for the gold among 25-to-54-year-olds, the main advertiser target audience for news programming.
Fox4 continued its recent early morning surge, tying NBC5 at 6 a.m. in total viewers and winning narrowly over the Peacock in the 25-to-54 demographic.
CBS11 took first at 6 p.m. in total viewers, but Fox4 had the early evening's other three golds with a 6 p.m. win among 25-to-54-year-olds and a sweep of the 5 p.m. competitions.
WFAA8's 5 p.m. Nielsen number in the 25-to-54 demo was almost subterranean. The ABC station had 6,138 viewers in finishing seventh among broadcast stations. CW33's 5 p.m. local newscast ran a heady fourth with 21,483 viewers in the 25-to-54 age range.