Local Nielsen ratings snapshot (Fri.-Sun., Feb. 13-15) -- NBC's live from New York thumps TNT's live from New York
02/16/15 12:04 PM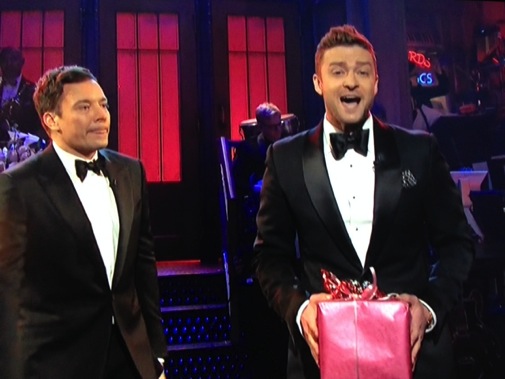 Jimmy Fallon, Justin Timberlake open SNL's three-and-a-half-hour 40th anniversary special Sunday night. Timberlake was allowed to say "dick in a box" twice in early prime-time after it was censored to "junk" in original 2006 short film and repeats. Photo: Ed Bark
By ED BARK
@unclebarkycom on Twitter
No contest. NBC's
Saturday Night Live
40th anniversary special from Rockefeller Center blew out TNT's NBA All-Star game at nearby Madison Square Garden.
Running from 7 to 10:30 p.m.,
SNL
's 40th dominated with an average 516,076 D-FW viewers; 236,535 of them were in the advertiser-prized 18-to-49-year-old demographic.
TNT's competing All-Star game drew 139,480 total viewers and 78,845 in the 18-to-49 age range.
NBC's 6 to 7 p.m.
SNL
red carpet show also won its time slot with 251,064 total viewers and 78,845 within the 18-to-49 motherlode.
Just about all of
SNL
's prominent surviving cast members appeared on the special, with a few notable exceptions. Among the missing: Dennis Miller, Julia Louis-Dreyfus, Nora Dunn, Victoria Jackson and short-timers Robert Downey Jr., Ben Stiller, Randy Quaid and Sarah Silverman.
Cheri Oteri, Julia Sweeney and Al Franken, now a U.S. senator from Minnesota, were listed as confirmed attendees but did not participate in any of the sketches. Eddie Murphy appeared after a long estrangement to received a hero's welcome from Chris Rock. He spoke briefly on stage but did not join in any of reindeer games.
As for Paul McCartney's voice on "Maybe I'm Amazed," I at first thought his microphone failed him. Maybe that's the case or maybe his high octave vocal shorted out after a full concert the previous night in New York. Your friendly content provider live-tweeted throughout the
SNL
special. And if you want to take a look at the string of 'em,
here they are
.
On Saturday night, the NBA All-Star game's preliminary activities on TNT, including the slam dunk and three-point shooting contest, pulled in 139,480 total viewers and 88,306 in the 18-to-49 age range. So yes, the slam dunk, etc. drew more 18-to-49-year-olds than the game itself Sunday night.
Also on Saturday night, NBC re-showed the first ever
Saturday Night Live
from 10:30 p.m. to midnight. It had 174,350 total viewers; 63,076 were 18-to-49ers.
Friday's prime-time Nielsens again were led in total viewers by CBS' 9 p.m. episode of
Blue Bloods
(265,012). ABC's 8 to 10 p.m. duo of
Shark Tank
and
20/20
topped the 18-to-49 demographic with 66,230 viewers apiece.
Here are Friday's local news derby results for the 12th weekday of the February "sweeps."
Gannett8 stayed in command at 10 p.m. with dominant wins in both total viewers and 25-to-54-year-olds (main advertiser target audience for news programming).
Gannett8 also made a strong showing at 6 a.m., winning in total viewers and tying Fox4 for first with 25-to-54-year-olds.
NBC5 had the most 25-to-54-year-olds at 5 and 6 p.m. Among total viewers, the Peacock and Fox4 tied for the top spot at 5 p.m. while the 6 p.m. golds were shared by NBC5 and CBS11.
Email comments or questions to:
unclebarky@verizon.net